BlackBerry 10 screenshots leaked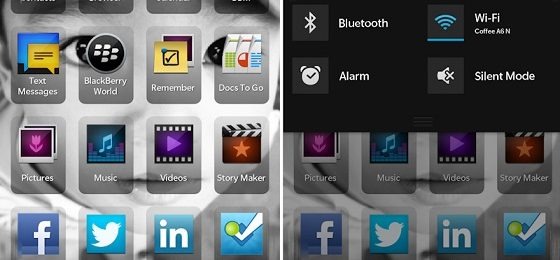 On December 12, we reported that a series of high-quality images of the BlackBerry 10 L-Series had appeared on the Vietnamese forum Tihn Te. Now more images have appeared on the website, this time of the BlackBerry 10 user interface, showing off a dozen screenshots of its various features. Check out the images after the break.
The screenshots show off a combination of the operating system itself and some social apps, including Facebook and Foursquare, which resemble what you find on Android. There's a look at BlackBerry Hub and the BBM menu. One of the screenshots shows off two of the clock options: Alarm Clock, which is square-ish, and Timer, which resembles an analog stopwatch.
Screenshots of the device's folders shows an impressively organized and uncluttered layout, with clean, easy-to-access options via a sidebar menu. Notifications are nicely organized in a sidebar layout with icons representative of what each notification pertains to, such as chats or Facebook. Finally, there's the voice-search screenshot showing off a Siri-like application.
There's not much in terms of details at this point, but the myriad of images provides a nice and fairly thorough look at the OS. RIM is slated to launch BlackBerry 10 at a launch event on January 30, at which point we'll get an official look at the operating system and what all it has to offer. The company is expected to introduce two BlackBerry 10 handsets as well.
[via Tihnte]