Black Shark 2 wants to be an Android Nintendo Switch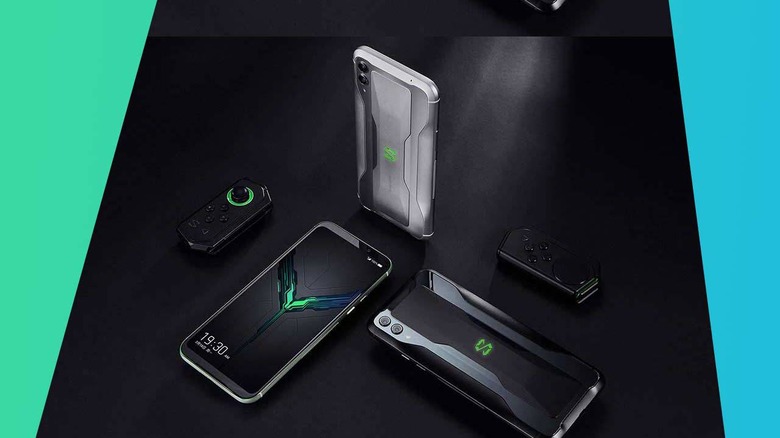 The release of the gaming phone Black Shark 2 is upon us, despite the major lack of games to make the device worth the effort. Both Android and iOS have very few games that make use of any major amount of processor power in a smartphone or tablet, and the mobile gaming universe continues to be a stumbling block for the gaming industry as a whole. But that isn't about to stop the folks at Black Shark!
To take on the Nintendo Switch fairly directly, this machine has two controllers that attach to its sides, called collectively "GamePad 3.0". These controllers can be used with games on the smartphone, on-the-go, or at home with a giant television. The Black Shark 2 works with HDMI connectivity to deliver "the world's lowest delay from any smartphone gameplay to any big screen."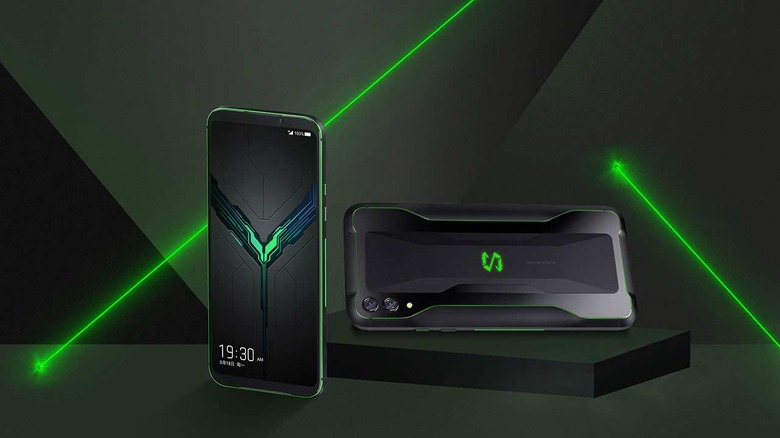 The GamePad 3.0 system can detach from the phone and connect with the Black Shark stand to create a wireless controller system. With the controllers connected wirelessly and the phone connected to your TV with HDMI, this makes for a home gaming console – Android and 1P only, of course.
The Black Shark 2 is a gaming phone for China, primarily. "Black Shark is a gaming company, composed of passionate gamers," said Peter Wu, Founder & CEO at Black Shark in a statement about the company and the new phone. Wu wanted to express this morning that for Black Shark, the user can rest assured "that developing the best gaming experience will always lead our path."
The smartphone has a 6.39-inch AMOLED display with 1080 x 2340 pixels across its face, giving the device's display panel 403 pixels-per-inch. This device's display has an aspect ratio of 19.5:9, and rolls with MEMC, "image enhancement" support, and support for DCI-P3 108.9% (typical). It's a highly decent display – as far as specs can say. We'll be the judge of the display in real once we've got our review unit in-hand.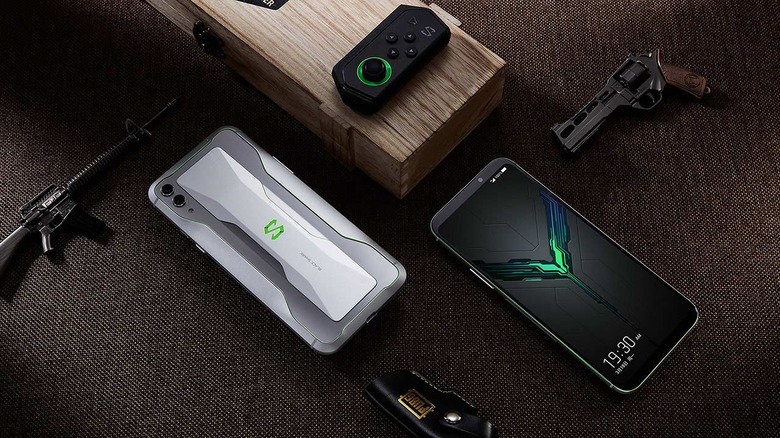 Also in the display is "Industry-leading HDR Tone Mapping and Always HDR" with what the company says is "realtime SDR-to-HDR conversion of games and videos." Up front are a pair of front-facing speakers that are "25% larger than a standard smartphone."
This display is pressure-sensitive. This sensitivity will only be used by the custom interface created by Black Shark, at first, but it MIGHT be able to be used by other apps in the future. There's a liquid cooling system under the hood to keep the device from overheating, too.
There's a 4000mAh battery inside, it works with Qualcomm Quick Charge 4.0 27W, and connects with USB type-C. There's an in-display fingerprint scanner up front and a 20MP f/2.0 camera to take some selfie photos and video. On the back is a set of cameras rolling with 12MP f/1.7 and 12MP f/2.2.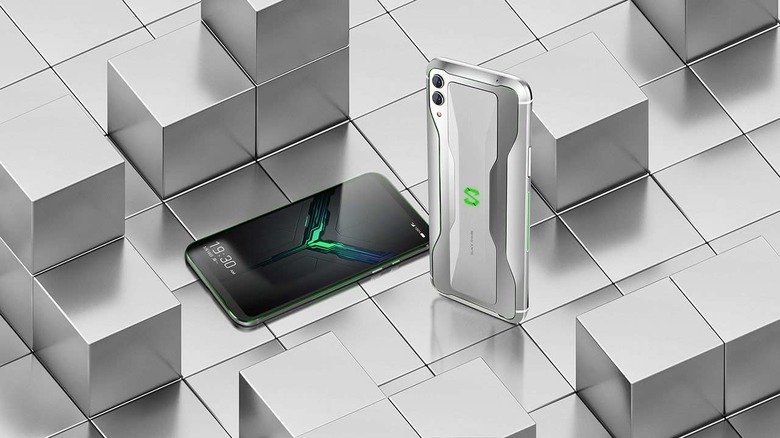 The logo and the 2 side lights light up with RGB colors that work with "music intelligent recognition" and user customization. There's also intelligent recognition of environments/weapons/movements/hits in games that'll translate to different vibrations in the handset.
Black Shark 2 has a Qualcomm Snapdragon 855 processor with a few different options for RAM and internal data storage. There's one that has 8GB RAM and 128GB internal storage, and another that has 12GB RAM and 256GB internal storage. But when's the last time anyone had a need for 12GB RAM on a mobile device? What app or game could possibly make use of such an amount of processing grunt?
This machine also has two color options: one that's Shadow Black, and another that's Frozen Silver. At this time Black Shark has not shared release dates or pricing for any version of the phone.