Black Ops 4 multiplayer and Blackout beta release dates detailed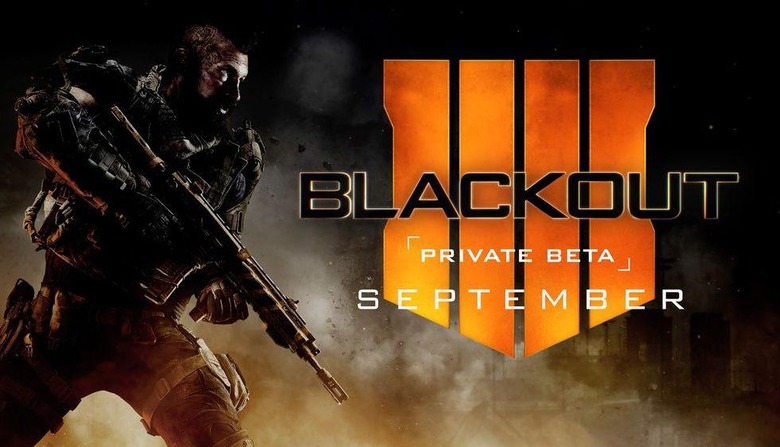 Following the popularity of Black Ops 2 and 3, it's safe to say that a lot of Call of Duty are excited for Black Ops 4. As is usually the case for these Call of Duty games, there will be a beta test that allows fans to get an early look at Black Ops 4 before it launches later this year. Activision and Treyarch are shaking things up a little bit, announcing today that they'll actually be holding two betas – a private multiplayer one and another that centered around the game's Blackout mode.
A new post to the Treyarch Community breaks down what to expect from each beta. The private multiplayer beta will be the first one out of the gate, kicking off early next month. PlayStation 4 players will get first access to the beta in a special PlayStation-only weekend that kicks off a week before the beta comes to Xbox. Here's the full schedule for all three Black Ops 4 platforms:
PlayStation 4 (Starts: August 3 at 10am/PT – Ends: August 6 at 10am/PT)

PlayStation 4 and Xbox One (Starts: August 10 at 10am/PT – Ends: August 13 at 10am/PT)

PC Beta Early Access (Starts: August 10 at 10am/PT) *PC exclusively on Battle.Net

PC Open Beta (Starts: August 11 at 10am/PT – Ends: August 13 at 10am/PT)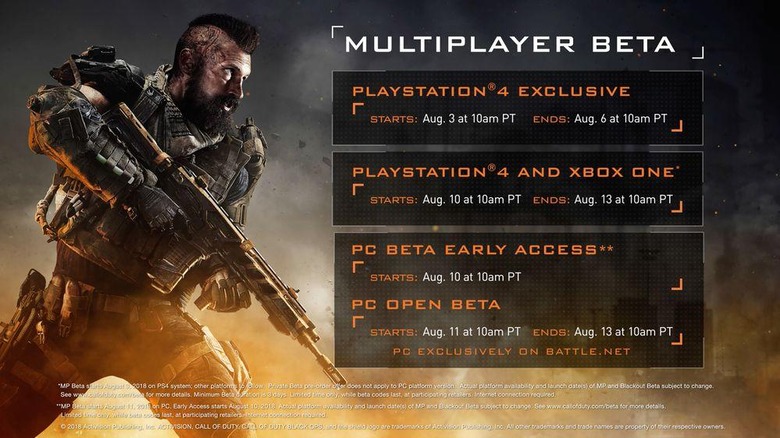 The multiplayer beta will feature six maps and and five game modes. The maps weren't revealed, but Treyarch says that two of them will be making "their first public appearance." The game modes that you'll be able to check out include Team Deathmatch, Domination, Hardpoint, Search & Destroy, and Control, which is a new game mode debuting in Black Ops 4. Those playing on PS4 and Xbox One will need to have pre-ordered the game in order to get access to the multiplayer beta, while the PC beta will be open to everyone through Blizzard's Battle.net.
Then, in September, Treyarch will roll out the Blackout beta. Blackout, as most of you probably know by now, is Black Ops 4's battle royale mode, but Treyarch sadly didn't have much to say about the mode about today. We don't know specific dates and start times, but we do know that it'll be available on PS4 first. More details will follow at a later date, so we'll keep an eye out for those. Stay tuned.