Black iRiver SPINN shows up in Korea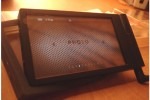 iRiver have seemingly released a black version of their SPINN PMP, although at present it only appears to be available in South Korea. Specifications for the PMP seem to be the same, aside from the color change, which means a 3.3-inch AMOLED touchscreen and iRiver's nifty spinning control wheel.
The iRiver SPINN is available with up to 8GB of storage in the US, after going on sale back in October 2008. As well as audio and video file playback, the SPINN has an FM radio and picture viewer functionality, together with voice recording and integrated Bluetooth 2.0 for wireless headsets.
It's unclear whether the black iRiver SPINN will make it to other markets outside of South Korea, where currently the only color available is matte silver. Given Apple's array of iPod colors, it would seem sensible for iRiver to at least double the finishes they offer.
[via GenerationMP3]