bKey: a backup smartphone battery the size of a car key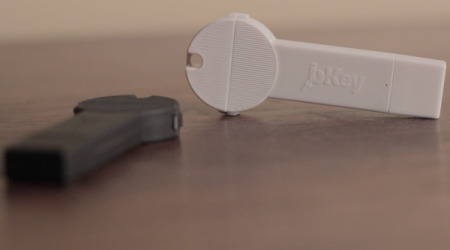 Let's face it. For all the power that gets added to our smartphones year after year, the battery is quickly becoming the bottleneck in our enjoyment of our mobile devices. Thus the need for emergency power reserves. But with external batteries and cases come bulk or wires, neither of which are convenient or exactly pleasant to use. That's where bKey tries to come in.
In a nutshell, bKey is an emergency battery for your smartphone like any external battery in the market. But as its name implies, it is the size and shape of a key. Not a regular house key, mind you, but a larger car key. But even then it's thicker than that, naturally. The idea is that with something this small, with a dedicated key-ring hole, you would be able to take it anywhere with you and use it to power up your smartphone in a pinch. Small, portable, lightweight, and convenient. Almost perfect, except it may not meet all of smartphone users' demands.
The laws of physics will naturally dictate that such a small contraption would only be able to hold a small battery. A 230 mAh battery to be exact. For comparison, that is 1/10th the capacity of many modern high-end smartphones and just a bit more than half compared to the latest generation of smartwatches. That said, the purpose of bKey isn't to really charge your smartphone battery even halfway through but only to get you powered up for an emergency. The makers behind bKey claim that it will give enough juice for a 30-minute conversation. The battery itself is able to hold its charge for 30 days.

bKey isn't alone in this key-sized battery market. Last June, we came across
with a slightly similar idea but has more features to sell. Not only is GOkey an emergency battery, it is also a USB thumb drive and a Bluetooth enabled locator all in one. The battery is also larger at 400 mAh. Compared to GOKey, bKey might look a bit too plain and simple, but what it lacks in features it makes up for in price. The price of pledging for one GOkey back then was $69. bKey is only asking you for 20 CAD, roughly $18.
That said, bKey isn't a battery you can buy off the market just yet. It is still in its Kickstarter pages, but it is quite well funded, reaching more than 30,000 CAD when it was only aiming for 25,000 CAD. There are still 18 days to go to put in your commitment to this crowdfunding campaign. bKey is scheduled to ship to backers by December this year, with white-gloss and rubberized matte-black color options, as well as a choice between a microUSB version and a 30-pin variant for iPhones.
VIA: