The digital currency known as Bitcoin has taken part in a newscast in which a fellow by the name of Matt Miller is robbed wirelessly, on live television. Of course Miller didn't know he was being robbed – and in fact since he was giving gift certificates with Bitcoin on them to his co-anchors it was more like they were getting robbed, but the end result is the same. Herein lies a lesson in understanding how QR-codes work.
A Reddit user by the name of milkywaymasta was watching a Bloomberg segment called "12 Days of Bitcoin" this week. To end the segment, Bloomberg's Matt Miller decided it'd be a nice gesture to give his co-anchors a gift certificate filled with Bitcoin. Each of these gift certificates worked with a private, unique QR-code.
One anchor held their gift certificate up to the camera for a closeup "in glorious HD for about 10 seconds." Well over the amount of time milkywaymasta needed to capture the QR-code for himself by simply taking a photo of the television screen and scanning it – or just scanning the screen as it was shown live. From there he was brought to a website where his own Bitcoin account was given enough credit for $20 USD.
"I took it, it was only $20 worth. It was exhilarating nevertheless. I'll send it back once Matt gives me a new address since someone else can sweep the old one.

A segment on Bitcoin security and the importance of NOT showing the private key and also BIP0038 (Password Encrypted Private Keys) Wallets will be more than enough compensation." – milkywaymasta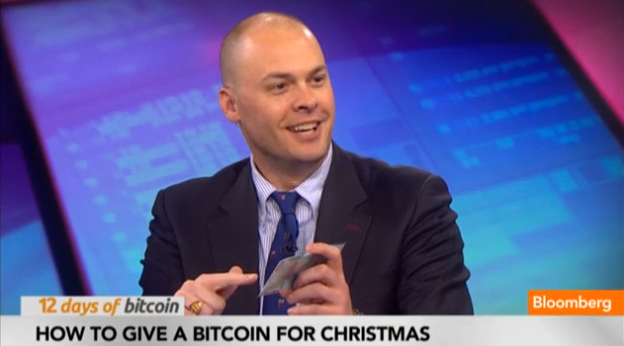 Miller did end up getting in contact with milkywaymasta, apparently, and decided against recapturing the cash. Lesson learned – be careful not to show any vital information or codes to a live camera. Don't post that info on the internet either, while you're at it. Be safe, just hide from all cameras all the time, and hide your Bitcoin in a drive under your mattress where you'll eventually find it's worth massive amounts of cash.