Birds On A Wire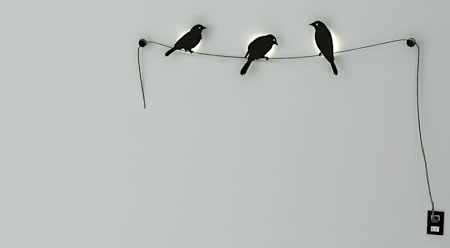 Not everyone likes to keep their home décor conventional and even the most prissy homes need a bit of a twist to add that element of surprise. This light is definitely a simple way to do that, I'd imagine no one would ever expect to see three birds hanging from your wall.
Created by Javier Henriquez and Sebastian Lara from the Mexican design studio eos méxico. They found themselves inspired by suburb afternoons and created these three little birdies.
Although the lighting is about as useful as Christmas lights in a college dorm room everyone needs that fragment of pointless illumination.
Birds On A Wire – Beautiful Illumination [via geekalerts]