BioWare's entire fate rests on Anthem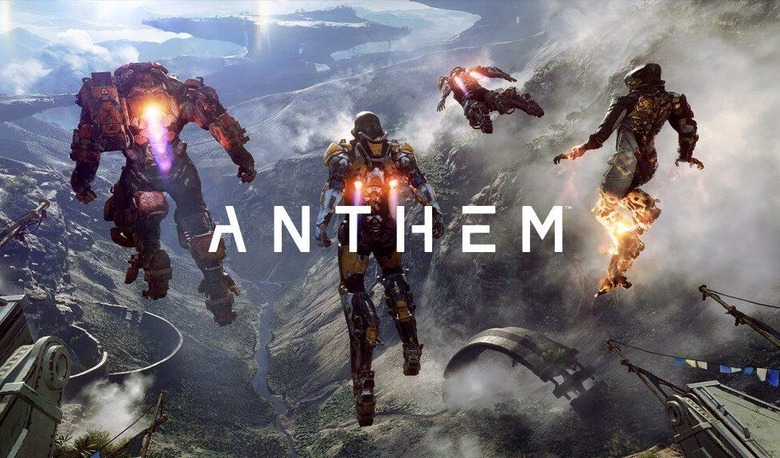 Depending on who you ask, Anthem was possibly one of the most exciting reveals at E3 2017. Though we still don't know very much about the game, what we saw at E3 looked good, and it got gamers excited to see what BioWare can do in making its own loot shooter like Destiny. Unfortunately, it sounds like development on the game has hit a few snags along the way, and that's causing some worry around BioWare's offices.
A new in-depth report from Kotaku speaks to various anonymous sources and details much of the game's development thus far. The first big reveal in that report is that Anthem now has a release date set for sometime in 2019. When the game was revealed at E3 2017, we heard that it'll arrive in autumn of this year, but sources close to the matter tell Kotaku that such a release date was never really viable in the first place.
As it turns out, it seems that BioWare has a lot riding on Anthem, and it sounds like its success or failure could have larger, real-world implications for the studio. BioWare is under a lot of pressure to get Anthem right because 2017 wasn't the greatest year for Electronic Arts. This, of course, is due to a number of things, but the two biggest causes that come to mind are Mass Effect: Andromeda and Star Wars: Battlefront 2.
While Mass Effect: Andromeda was supposed to be the next entry in a well-established and otherwise "safe" BioWare franchise, it was ultimately a disappointment that received a lot of backlash online. The same is true for Star Wars: Battlefront 2, but the backlash we saw from that game wasn't centered around things like glitches and strange visuals, but rather microtransactions. The microtransactions in Battlefront 2 were met with a fury that few other games have seen before, and that along with recent backlash against Destiny 2 has BioWare reconsidering its own microtransactions approach in Anthem.
The nature of those microtransactions hasn't been settled on yet, though Kotaku's Jason Schreier says that they may only involve cosmetic items. Given that the game is being published by EA – a big proponent of microtransactions – and considering the sheer number of similar games that look to extend revenue through the same means, it seems safe to assume that Anthem will have them in one form or another, and the potential backlash against that is said to have "some developers on edge."
In the end, BioWare has the all of the manpower at both of its studios behind Anthem at the moment, and the studio likely won't focus on any other projects until Anthem is complete. It isn't all bad news, though, as the general feel from many of these sources is described as anxious yet optimistic.
If Anthem really is now scheduled for a 2019 release, it'll probably be a while until we see more from it, so here's hoping that development is moving in the right direction. In the meantime, be sure to hop over to Kotaku to check out Schreier's full write up on the state of Anthem, because it's definitely worth a full read through for anyone who is looking forward to it.