BioShock Infinite drivers blast forth for NVIDIA GeForce GPU

Should you happen to be playing the widely applauded BioShock Infinite game this week with a machine with the graphics power of NVIDIA's GeForce under the hood, you'll also find game-optimized drivers available to you for download. These drivers have ben sent out to the public along with notes about how they'll destroy your concept of what looks best graphics-wise. If you thought this game looked great before, you're in for a real trip.
NVIDIA is notorious for being up-to-date with the newest biggest baddest games on the market, releasing software for the graphics cards they've got out in the wild so that you can have the best experience you could possibly hope for. What we're seeing with the NVIDIA GeForce family of GPUs here in 2013 is a big drive for NVIDIA-pushed optimization, especially with services such as the GeForce Experience. At the moment we're seeing NVIDIA release a massive amount of information on this release specifically, showing the undeniable power of optimization on a variety of systems.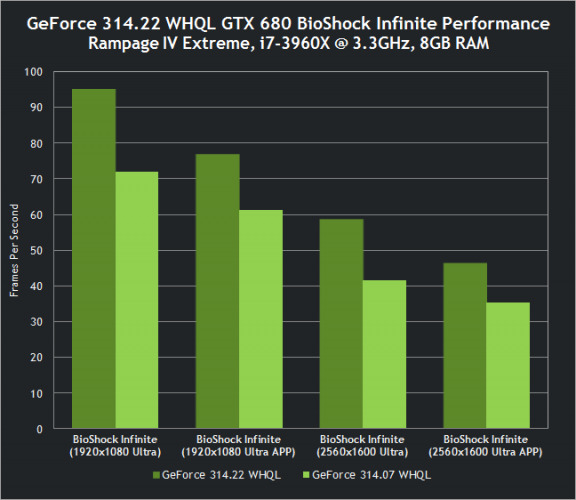 What you're seeing here is the game being tested on four different resolutions and setups, each of them running on Rampage IV Extreme, i7-3960X clocked at 3.3GHz with 8GB of RAM under the hood. It should be mighty clear that you'll want to update your drivers to GeForce 314.22 WHQL as quick as possible, even on GPUs not listed here.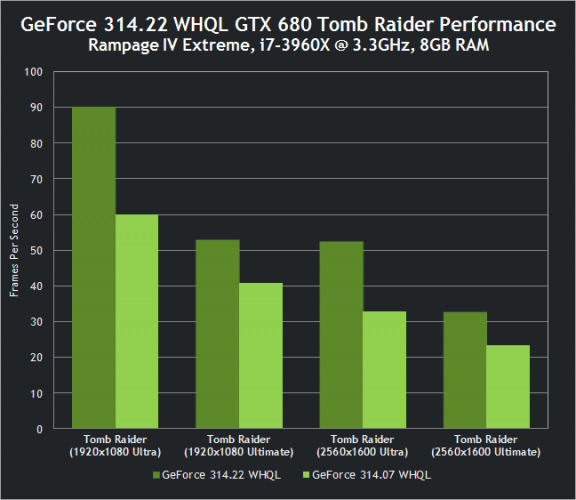 NVIDIA has also shown the difference in performance for such games as the new Tomb Raider. You'll find here that the change is just as impressive, changing the frames per second by levels of 10 with ease. These games are two in a collection of games the team has tested and optimized, with this particular driver update hitting the following: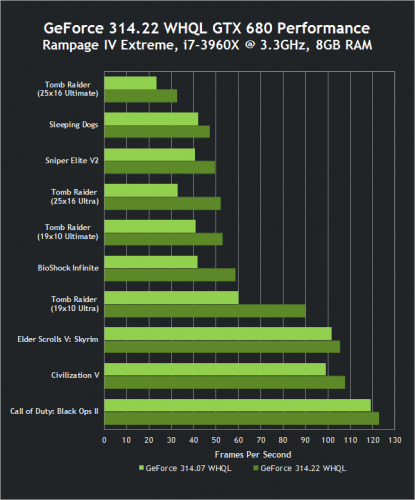 In addition to the BioShock Infinite and Tomb Raider optimizations, 314.22 WHQL also includes performance improvements for Batman: Arkham City, Battlefield 3, Borderlands 2, Call of Duty: Black Ops II, Civilization V, Sleeping Dogs, Sniper Elite V2, and The Elder Scrolls V: Skyrim.
Good deal! You'll find this update available to you today in an over-the-air update – automatic! You can also go ahead and download the GeForce Experience for your machine to get the update with a click of a button – make it happen! These drivers can also be downloaded at the GeForce Homepage where all great driver downloads are housed.