Bing Reborn: New UI, Facebook And Google+ Integration, More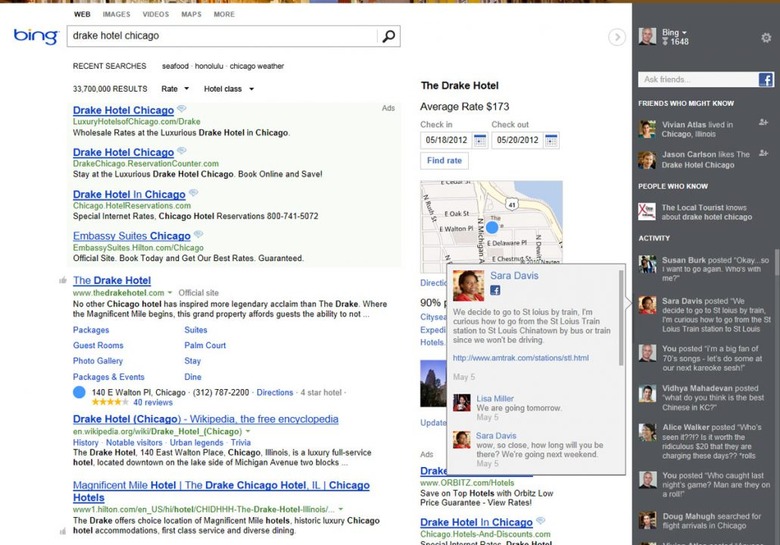 Microsoft has launched a new version of its Bing search engine, giving it a Windows 8-style UI refresh and integrating social networks so that searchers can factor in the opinions of their friends. "Research tells us that 90% of people consult with a friend or expert before making a decision" Microsoft said of the Bing changes. "The challenge has been to figure out how to integrate the information you care about with the people who can be most helpful to you in getting stuff done." Full details after the cut.
The Bing UI now features three columns, with the main showing search results: Microsoft said that in blind testing, 43-percent of people preferred Bing's search results and 28-percent preferred those from Google. In the center there's the Snapshot column, with relevant information and services related to the main search – including maps, restaurant reservations and reviews – based on user-patterns of common tasks. Microsoft has roped in third-party service providers like Open Table, FanSnap and others.
Finally, on the right is the Sidebar for social integration; after logging in through Facebook, users can tag friends they believe may be knowledgable on each subject, and see others that Bing believes suitable based on their "likes", their listed interests, and photos they've shared.
"For example, if you're searching for diving spots in Costa Rica, with the new Bing, you may discover that one of your Facebook friends knows a great spot, based on photos from their last trip to Costa Rica that they shared on Facebook. Or you might find a friend who lives in Costa Rica based on his or her Facebook profile. You and your friends can only see information you could already see about each other on Facebook" Microsoft
Furthermore, Bing will also suggest external experts from Twitter, Foursquare, Quora, LinkedIn, Google+ and Blogger who might also be able to help. The sidebar will also hold the Activity feed, a record of all ongoing and previous queries.
"Both Bing and Google were starting to jam social signals into the Web results, and it turns out it wasn't that relevant and it was overloading users with clutter," Derrick Connell, Corporate Vice President in Microsoft's Bing team argues. "With this release, we've taken most of that out of the Web results and given users the traditional search results that they love and expect."
The new Bing will roll out to US users in the next few days, and you can find it out when it's available for you by registering at bing.com/new. Meanwhile, Microsoft is working on a mobile version – m.bing.com - with touch optimization, that will arrive in the coming weeks.