Microsoft has released Bing Maps Preview for Windows 8.1, its Google Maps-rivaling navigation app with over seventy high-res 3D cities, Skype and OpenTable integration, street-level photography, and Live Tile support. The new app, hitting the Windows Store today, introduces a new 3D graphics engine which Microsoft says delivers more realistic visuals across a wide range of angles.
That, Microsoft claims, involved the combined talents of video game world-builders, photogrammetrists, experts with aerial cameras, and its own Big Data cloud to process it all. Most impressively, though, is the speed at which the company claims it can get new city imagery into Bing Maps: "a matter of weeks" from it being recorded on a plane to showing up on a map.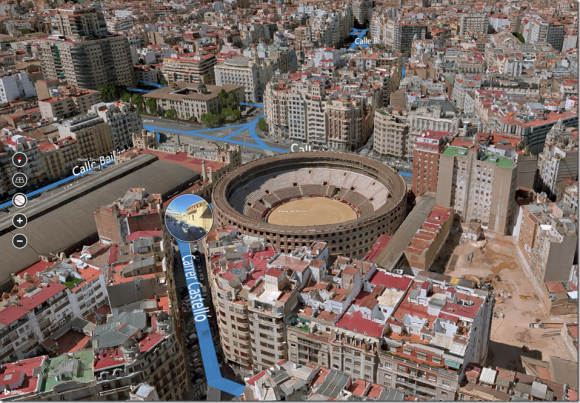 Microsoft has also added in a few new navigation tools, intended to make orienting yourself in a 3D world more straightforward. The "bubble view" in Streetside – Microsoft's version of Google Street View for those not familiar with Bing Maps – puts a tiny street-level thumbnail in the 3D city, which rotates around as you navigate through the scene.
There's also support for a split-screen view with street-level images and a more traditional 2D map. Local Scout, meanwhile, pulls in the same point-of-interest integration from Windows Phone to Windows, flagging up nearby restaurants, cafes, parking lots, and other useful places.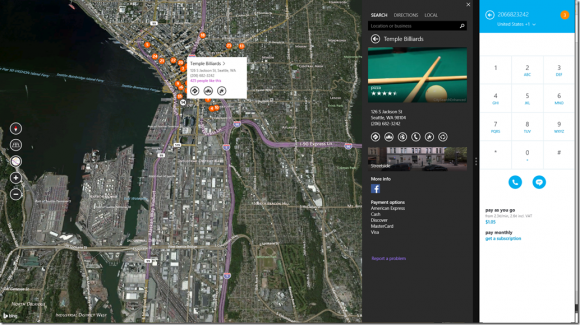 Now, however, there's support for making Skype calls directly from within the Bing Maps app, along with OpenTable integration that automatically snaps into split-screen view. Meanwhile, your common routes can flag up traffic warnings on the Windows Start screen, embedded into a Live Tile just as on Windows Phone.
Although it obviously works on Windows desktops and notebooks, the new Bing Maps Preview looks like it will be especially at home on tablets and touch-controlled devices, an arena where Google and Apple are currently fighting it out for pole-position.