BF Evergreen 7010A: netslate, nettab or just underpowered rubbish?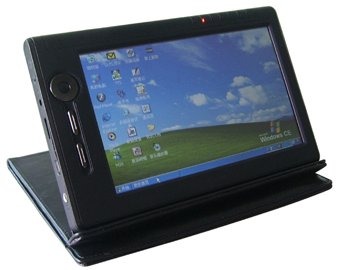 ASUS' confirmation that their touchscreen Eee PC models are imminent meant that we would have to decide whether "netbook" was a suitable name for a slate-format budget ultraportable device, but what thinking time we had has been cut short with the arrival of the BF Evergreen 7010A.  Based around a 7-inch, 800 x 480 touchscreen and running Windows CE, BF Evergreen themselves sidestep the arguments and merely call the tablet a "low cost laptop"; is this one of the first "nettabs" or "netslates"?
Whatever the classification, something we can all agree on is that the specifications are pretty anaemic.  Windows CE is thankfully a relatively frugal OS, and all it's given to play with is a 400MHz Samsung 2440A processor with 128MB of RAM.  Storage is a mere 1GB of SLC flash, although there's a SD/MMC slot supporting up to 4GB cards.  Connectivity is also a little sparse, with a single USB 1.1 port (I didn't think I'd ever have to type that again), an "internet socket" (presumably for wired ethernet) and no sign of wireless connectivity.
What you do get, though, is a 600g ultraportable measuring 210 x 148 x 26.3mm and the ability to use Microsoft Office, Skype, various instant messaging clients and other apps.  No word on price, but it looks as though BF Evergreen are searching for a distributor.
[via Pocketables]