Betsey Johnson electronic accessories at Best Buy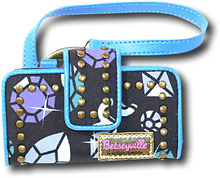 If you have a thing for the designer Betsey Johnson, then Best Buy has a new line of gadget accessories you might be interested in.  It features several different styles and sizes of cases to fit all of your small electronics.
They not only have several iPod cases, but a camera, phone and set of laptop cases as well.  All three of the laptop bags will hold a laptop up to 15.4".  The iPod cases will hold either the Touch or the Classic.  It doesn't seem that they have any to fit the Nano.
The camera has both a small and medium size, whereas the phone cases will fit most smaller phones.  The prices range from about $20 all the way up to $140.  The camera cases happen to be cheaper than usual as of now.
[via shinyshiny]