Bestlink Alpha 400 super-cheap Linux ultraportable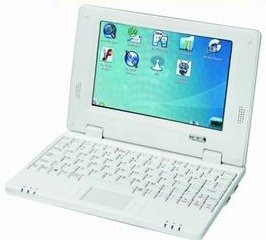 If you're looking to make your mark in the crowded budget ultraportable segment, you have a choice: aim to oust the Eee with extra features, a faster processor or a slicker design, or go for the wallet-vote and price your machine lower.  Hong Kong-based Bestlink is going for the latter route, with their Alpha 400 notebook priced at just $250 (including shipping).   Despite the bargain price you still get a 7-inch LCD, but elsewhere it's obvious where corners have been cut to shave off costs.
Based on an Ingenic Semiconductors 32-bit XBurst CPU running at just 400MHz, it's apparently enough to satisfy both the unnamed Linux OS and Windows CE.  A mere 128MB of RAM is supplied (you're not going to be loading XP onto this), and 1-2GB of internal flash-based storage.  That can be expanded via the SD card slot, up to a maximum of 32GB, or by using a USB hard-drive (Bestlink claim it'll work happily with up to 160GB external drives).  The screen is 800 x 480 resolution.
What's missing, however, is connectivity.  Unlike just about every other notebook on the market, the Alpha 400 lacks built-in WiFi (although it does have an ethernet port).  Bestlink will sell you a WiFi adaptor to slot into one of the two USB ports, or alternatively GPRS and CDMA modems.  Headphone and microphone jacks are present, as is a "mouse port" (PS2?), but no webcam. It measures 8.3 x 5.6 x 1.3 inches, weighs 1.5 pounds and is available in six colors.
This is a machine you definitely choose for the price, not the specifications.  Considering Bestlink will sell them to you for $180 if you buy in volume, it could make sense in education settings where wired ethernet is likely to be on-hand.  Everyone else is probably better off with an Eee or one of its somewhat more capable rivals.
[via Desktop Linux]