Best Buy offer Sprint Compaq 3G netbook for $0.99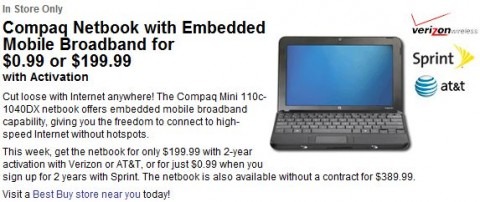 We may receive a commission on purchases made from links.
Sprint and Best Buy are offering a Compaq Mini 110-series netbook for just $0.99, assuming you're willing to sign up to 2-years of EVDO Rev.A data service from the carrier.  The netbook, The Mini 110c-1040DX, can be picked with either a CDMA EVDO Rev.A module for use with Verizon or Sprint, or an HSDPA module for use with AT&T; however only the Sprint subsidy brings the price down to under a buck.
If you'd prefer to go with Verizon or AT&T, the netbook will cost you $199.99 plus the two-year subscription with either carrier.  Meanwhile the unsubsidized price is $389.99.  The data package, in Sprint's case, will cost around $60 per month; meanwhile the netbook itself is an Intel Atom N270 1.6GHz machine with 10.1-inch 1024 x 576 display, 1GB of RAM and a 160GB hard-drive.
It's not the cheapest way to pick up a new netbook, and you lack the flexibility of connection sharing that you'd get with a MiFi, but if you're desperate for a 3G-enabled netbook and can't afford the cost upfront then it might be the device for you.  You'll have to stop in at your local Best Buy, though; the offer is not available online.
[via jkOnTheRun]