Best Buy Nexus S sales plans detailed: 2 per buyer from 8am on Dec 16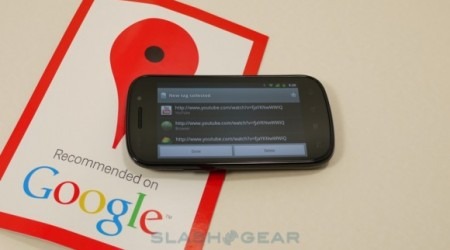 Having gone up for pre-order in the UK yesterday, sales plans for the Google Nexus S in the US have been confirmed by exclusive retailer Best Buy. The unlocked Nexus S will be priced at $529, or for $199 with a two-year T-Mobile agreement (and qualifying voice and data plan), when it goes on sale come December 16. Best of all, it seems Google has learned from its online-only sales debacle with the Nexus One, and will make sure every Best Buy and Best Buy Mobile store will have a Nexus S demo handset around for would-be buyers to play with.
The Nexus S will also be up for grabs as an add-a-line activation, though you'll have to spend $249.99 on the handset instead (as well as the extra plan). Online sales will kick off at 8am Eastern, while stores will open at 8am local-time across the US; however, Best Buy isn't guaranteeing stock levels across its retail network, and says that, while all stores will have some stock, numbers will vary and it'll be first-come-first-served.
Meanwhile each buyer will be limited to two devices at most, so if you were hoping to outfit your entire family with Nexus S', you may have to do some driving that morning. More on the Nexus S here.
[via Android Community]
Press Release:
Statement: Nexus S Lands in All Best Buy and Best Buy Mobile Stores Dec. 16
In addition to the in-store launch, online sales – via BestBuy.com – begin at 8 a.m. Eastern time.
MINNEAPOLIS, Dec. 13, 2010 – All Best Buy and Best Buy Mobile specialty stores launch Nexus S in-stores and online at BestBuy.com on Thursday, Dec. 16. Nexus S, from Google and Samsung, is the world's first smart phone with Android 2.3, Gingerbread.
Here are some important details for the launch of Nexus S:
Timing: Online sales of Nexus S begin at 8 a.m. Eastern time to coincide with the opening of Best Buy stores on the East Coast. As a reminder, all Best Buy stores have adjusted their holiday hours to open at 8 a.m.
Availability: Nexus S is available in all Best Buy and Best Buy Mobile specialty stores. Exact inventory will vary by store. Nexus S will be sold out on a first-come, first-serve basis with a limit of 2 per phones customer.
Demo phones: All Best Buy and Best Buy Mobile stores will have a Nexus S demo phone on-hand so customers can see and experience the phone.
Pricing: The Nexus S is an unlocked phone and can be purchased without contract for $529. The Nexus S can also be purchased for $199 with a TMobile two-year service agreement and qualifying voice and data plan. Nexus S can also be purchased for $249.99 for add-a-line activations.
As with all smart phones it sells, Best Buy Mobile will have a full assortment of accessories for Nexus S and offers an array of services aimed at improving the mobile phone buying experience, including:
Upgrade Checker:A quick and easy service that gives customers the ability to see when they are eligible for their next phone upgrade. When the upgrade time is nearing, customers receive a complimentary reminder call, e-mail or text message.
Walk Out Working™: Free in-store smart phone setup by a Best Buy Mobile Phone Specialist who will sync personal email accounts, set up Bluetooth headsets, transfer contacts and activate other services to allow the customer to leave the store with a fully functional new smart phone.
For more information on Best Buy Mobile and Nexus S, please see www.BestBuy.com/Mobile, www.BestBuyMobile.com, or call our dedicated Nexus S Help Line at 1-866-813-2021.