Best Buy Mocks iPad In Eee Pad Transformer Promo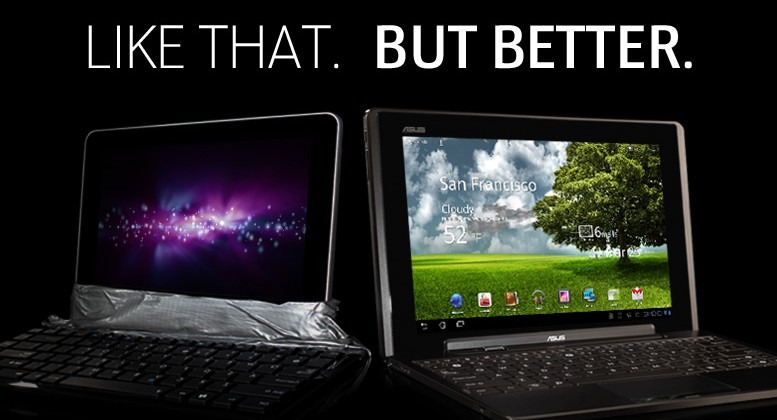 You can't accuse Best Buy's marketing department of being afraid to shoot the golden goose. The company may be one of the few retailers to offer Apple's iPad 2, but that hasn't stopped it from taking pot-shots at the iOS slate in its new ASUS Eee Pad Transformer promotion. Showing the new 10.1-inch Android 3.0 Honeycomb tablet paired with its nifty battery-toting keyboard dock, the retailer contrasts it with what's clearly an iPad taped to a keyboard with the headline "Like That. But Better."
We'd have to agree with Best Buy that the Transformer's combination of extra battery life – pushing longevity to up to 16hrs – and easier text entry with the keyboard dock does improve on using the iPad 2 with a Bluetooth keyboard. In fact, Apple looks to be pushing away from talking about traditional text-entry on its tablet altogether; there's still no sign of an updated Apple Keyboard Dock for the second-gen slate.
Whether it's enough to persuade customers at point-of-sale remains to be seen, though the $400 price-tag should garner some attention since it undercuts the entry-level iPad 2 by around $100. No word on when, exactly, the Transformer will be arriving in-store; the UK launch is this Wednesday.