Best Buy Insignia Connected TVs pack TiVo streaming & chumby widgets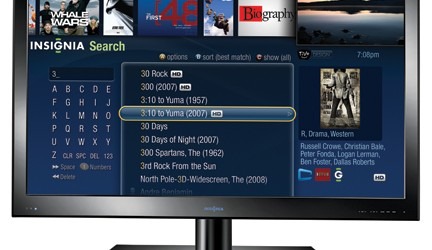 We may receive a commission on purchases made from links.
Best Buy's Insignia brand of TVs blessed with the TiVo interface and streaming functionality have been revealed, offering access to YouTube, Netflix, Facebook and more, but without demanding a TiVo subscription. The new Insignia Connected TV range will kick off with two models initially – $499 for a 32-inch set, and $699 for a 42-inch version – each supporting 1080p Full HD and 120Hz refresh rates, and using LED backlighting.
There's also Audyssey and SRS sound processing, and integrated support for Rocketfish wireless sound, promising uncompressed digital audio input to the TV or output to speakers. Connectivity includes the usual variety of HDMI, composite, component and others, and there's a remote in the box too.
The most interesting part, though, is the software, and while the new Insignia sets won't function as TiVo DVRs, they do get access to streaming services. Netflix, CinemaNow, YouTube, Pandora and Napster are supported, assuming you have the relevant accounts, and there are Chumby widgets for  Twitter, Facebook, Photobucket, Accuweather, Reuters News and Sports, Stocks and Traffic.
[vms 474c1976c9706ae36521]