Best Buy drops list of 50 store closures - are you amongst them?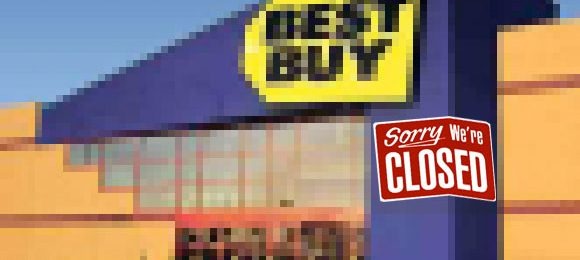 Everyone working in the United States at a Best Buy Big Box store that've been on-edge about the future of their branch will today either be sighing with relief or breaking out their resumes as Best Buy has released a final list of USA closures. The giant list of 50 closures has been brewing now for many weeks, with the final 42 closures being listed by Best Buy this week. Included in these are one location in Kansas City Missouri, another in Scottsdale Arizona, and a whopping five in Best Buy's home state of Minnesota – each of them in the Twin Cities.
Each and every one of the employees at these locations, Best Buy notes, will be either offered jobs elsewhere inside Best Buy's extended network, or will be given severance packages to ease their transition to a new job. Most of the locations listed here will be permanently closed by the 12th of May. Customers currently still doing business with any of these particular stores are or will be being contacted by phone by Best Buy officials soon.
Best Buy released the following list of imminent closures today:
Casa Grande

1004 N Promenade Pwy

Casa Grande, AZ

Lake Pleasant

10134 W Happy Valley Rd

Peoria, AZ

East Palo Alto

1751 E Bayshore Rd

East Palo Alto, CA

Westwood

10861 Weyburn Ave

Los Angeles, CA

Manteca

934 Perimeter Dr

Manteca, CA

Moreno Valley East

27220 Eucalyptus

Moreno Valley, CA

Ontario

4120 E 4th St

Ontario, CA

Pittsburg

4405 Century Blvd

Pittsburg, CA

Jamboree

2857 Park Ave

Tustin, CA

Arapahoe & Parker

15800 E Briarwood Cir

Aurora, CO

The Forum

9370 Dynasty Dr

Fort Myers, FL

Oldsmar

11655 W Hillsborough Ave

Tampa, FL

Fayetteville

128 Pavilion Pkwy

Fayetteville, GA

Loganville

4014 Atlanta Hwy

Loganville, GA

Addison

1038 N Rohlwing Rd

Addison, IL

87th & Dan Ryan

8900 S Lafayette Ave

Chicago, IL

Deerfield

200 S Waukegan Rd

Deerfield, IL

Matteson

4707 Lincoln Mall Dr

Matteson, IL

Mundelein

1100 N Rt 83

Mundelein, IL

West Dundee

979 W Main St

West Dundee, IL

Speedway

10500 Parallel Pkwy

Kansas City, KS

Back Bay

360 Newbury St

Boston, MA

Wareham

2421 Cranberry Hwy

Wareham, MA

Inner Harbor

600 E Pratt St

Baltimore, MD

Hunt Valley

118 Shawan Rd

Hunt Valley, MD

Biddeford

405 Mariner Way

Biddeford, ME

Brooklyn Center

5925 Earle Brown Dr

Brooklyn Center, MN

Edina

3200 Southdale Cir

Edina, MN

Hutchinson

1350 Hwy 15 S

Hutchinson, MN

Lakeville

18350 Orchard Trl

Lakeville, MN

Rochester South

4540 Maine Ave Se

Rochester, MN

Rogers

20870 Rogers Dr

Rogers, MN

Ellisville

15678 Manchester Rd

Ellisville, MO

Monroe

3151 W Highway 74

Monroe, NC

Rocky Mount

1100 N Wesleyan Blvd

Rocky Mount, NC

Millard

12210 K Plz

Omaha, NE

East River Plaza

517 E 117th St

New York, NY

Steelyard Commons

3506 Steelyard Dr

Cleveland, OH

Salem Mall

5031 Salem Ave

Dayton, OH

Caguas

Las Americas Expry PR52 Zafiro

Caguas, PR

Middletown

890 W Main Rd

Middletown, RI

Hickory Hollow

5255 Hickory Hollow Pkwy

Antioch, TN

Techridge

12901 North I-35

Austin, TX

Woodlake Parkway

6218 Woodglen

San Antonio, TX

Landmark Mall

5901 Stevenson Ave

Alexandria, VA

Cosner's Corner

9745 Jefferson Davis Hwy

Fredericksburg, VA

East Richmond

4410 S Laburnum Ave

Richmond, VA

Mill Plain

16611 Se Mill Plain Blvd

Vancouver, WA
Let us know if this will affect the way you purchase electronics in the near future – and if your local store is closing! Also keep a close look out for big closeout sales at each of these locations: they'll be coming up quick, no doubt!