Best Buy CEO resigns amid $800m cost cut program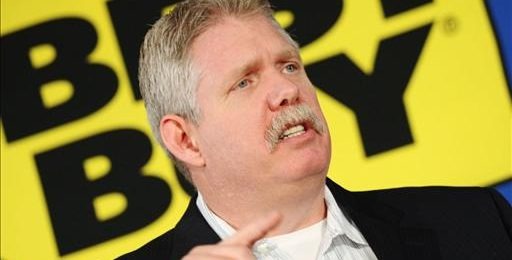 Best Buy CEO and director Brian Dunn has resigned, leaving director G. Mike Mikan to take the reins as interim CEO as the retailer attempts to find someone who can lead the electronics chain to profit. Described as a decision based on "no disagreements between Mr. Dunn and the company on any matter relating to operations, financial controls, policies or procedures" by Best Buy, no reason for Dunn's resignation has been given, though it's worth noting that the company made a net loss of $1.7bn in its most recent financial quarter.
"I have enjoyed every one of my 28 years with this company, and I leave it today in position for a strong future" Dunn said in a statement. "I am proud of my fellow employees and I wish them the best."
Similarly, company founder Richard Schulze was reasonably positive about the transition. "We thank Brian Dunn for his many years of service to the company and wish him well in his next endeavors" he said in a statement today. "As we move forward, we are very pleased to have a strong leader with Mike Mikan's credentials as interim CEO."
Those looking at Best Buy's balance sheet may struggle to see the "strong future" Dunn referred to. The company announced it would begin an $800m cost trimming exercise – including closing around 50 big-box stores among other reductions – in 2012, though still predicts falling store sales.
Best Buy will now begin the search for a new CEO, with Schulze heading a team made up of board members.