Bentley Flying Spur revealed: Most beastly 4-door to-date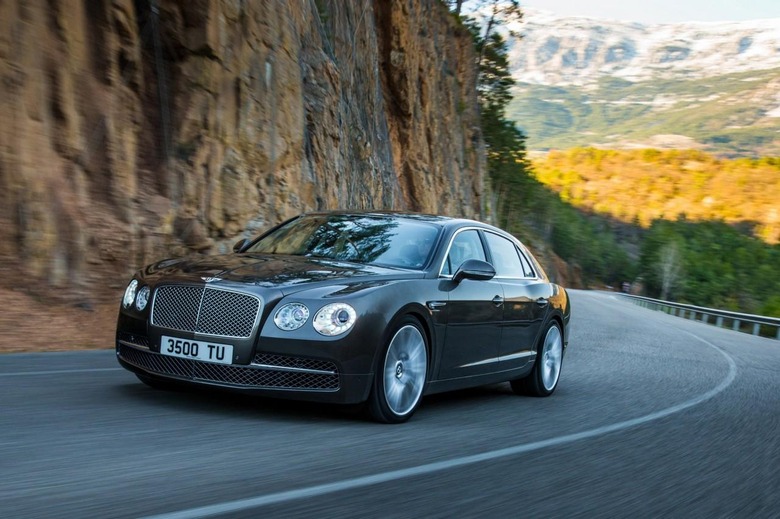 Bentley has revealed its new Flying Spur, billed as the fastest, most powerful four-door Bentley to-date, and packing even vaster quantities of technology into its cosseting wood, leather, and metal-clad cabin. Set to officially debut at the Geneva Motor Show in early March, the new Flying Spur squeezes a 6.0-litre, twin-turbo W12 powerplant under the hood, pushing out 616bhp and 800Nm of torque for a 200mph top speed and a 0-60mph dash in 4.3s. However, inside, there's a combination of comfort and gadgetry, with a 1100W Naim audio system and touchscreen controls.
The W12 is hooked up via an eight-speed ZF auto transmission to the four-wheel drive system, which normally splits things 60:40 (rear:front) but can bias its output by up to 85-percent to the rear (or up to 65-percent to the front) depending on road conditions. Bentley also promises a bump in responsiveness at low-speed, and 580 lb-ft of torque at just 2,000 revs. Economy probably isn't going to be too high on the agenda for most owners, but the Flying Spur will put in a 19.2mpg combined cycle, with 343g/km CO2 output.
Bentley Flying Spur preview:
[vms 887a717c435081cfc5db]
Under the muscular haunches, there's a new air suspension system that automatically lowers the car when it climbs above 121mph. It's also capable of more comfort, however, not just adjusting for stability, with up to a 13-percent increase in softness for passengers. Outside, it's a mixture of aluminum, polymer composite, and other lightweight materials, with a new, longer and lower trunk lid, more upright grill, some extra creasing to draw your eye along the waistline, and a 4-percent increase in rigidity. Despite all that, it's actually 50kg lighter than the version it replaces (ditching the "Continental" branding in the process).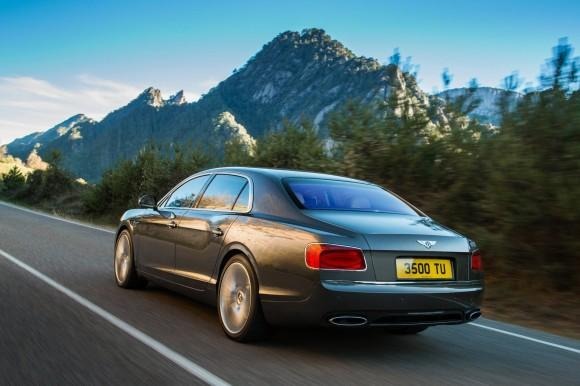 Step inside, and Bentley's attention to detail becomes clear. The Flying Spur will be offered in both four and five seat versions, depending on how willing you are to share your luxury, with a new, softer leather, 14-way power adjustable seats (all with both heating and ventilation), and electric rear sunblinds, with the option of a no-cost glass roof. In the four-door, the center console sweeps all the way through the middle of the cabin; either way, a single veneer is used for the dash and the doors, so that it appears like an unbroken swathe of wood.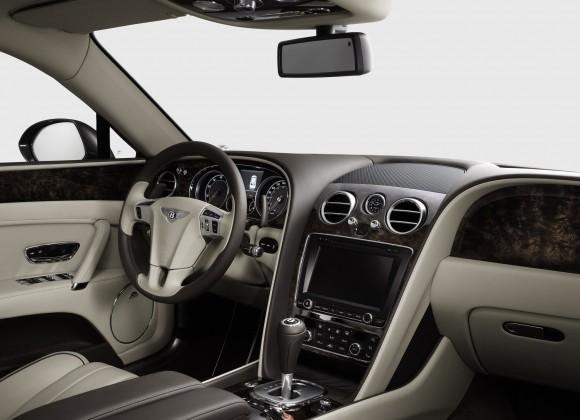 The standard audio system offers eight channels and eight speakers, while the Naim system steps up with individual subwoofers. Both can play CDs, DVDs, music from SD cards and iPod/iPhone, and the onboard hard-drive. A touchscreen remote system in the back allows control over multimedia, navigation, and heating/cooling. An option, meanwhile, is the Bentley Multi-Media Specification, which throws in an integrated mobile WiFi hotspot, 64GB of storage, two 10-inch LCD displays for the rear passengers, each with their own multimedia loading stations (for CD/DVD, SD, USB, and HDMI input) and wireless headphones.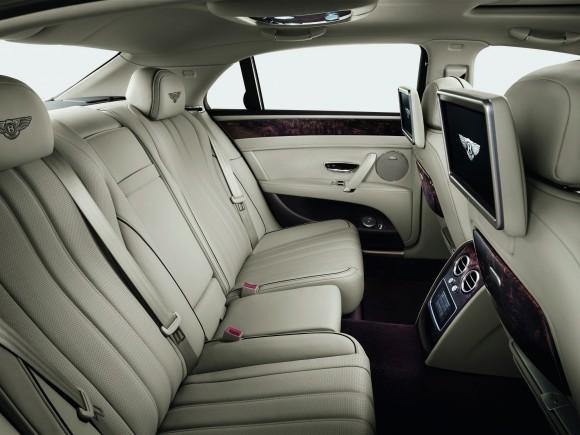 Bentley is yet to confirm pricing for the new 2014 Flying Spur, which will begin hitting dealerships in summer this year. However, we'd expect somewhere in the region of the $210,000 starting price of the existing model, climbing rapidly the more customizations you ask of the company.