Bentley EXP 10 Speed 6: Look out world, the Brits are back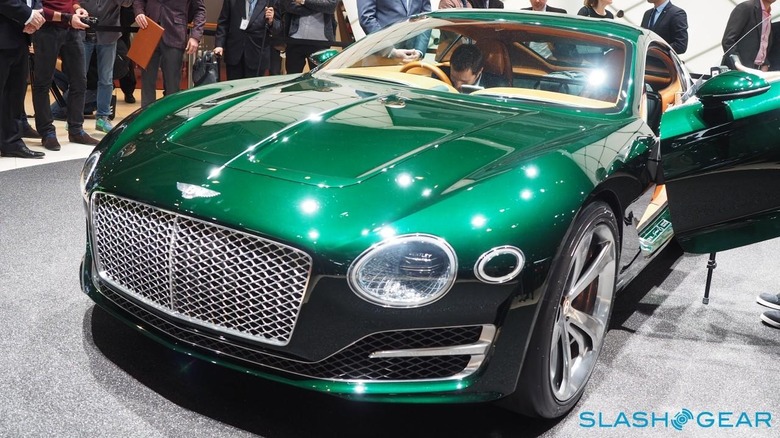 When Bentley makes a concept, it doesn't do things by halves, and the Bentley EXP 10 Speed 6 is the best evidence of that we've seen in years. Dropping jaws here at the 2015 Geneva Motor Show, the deep green two-seater isn't just a design exercise – even though that alone would be enough to have us interested – but, teasingly, the forebear of a new age of styling for the heritage company and potentially even a new line of more performance-focused models to sit alongside the Continental GT grand tourer. And, while you might associate Bentley with old-school luxury, if anything the EXP 10 Speed 6 could be the most technologically forward-looking car at the show.
First things first, though: those looks. Whereas even the most recent Bentley models could be described as luxury cruise liners of the road, trading visual slipperiness in favor of something more akin to an ocean liner bearing down upon you with extreme prejudice, the EXP 10 Speed 6 – the "EXP" stands for "experimental", while the "Speed 6" is a nod to classic Speed 6 cars of yesteryear – is far more subtle.
That's "subtle" in Bentley terms, of course.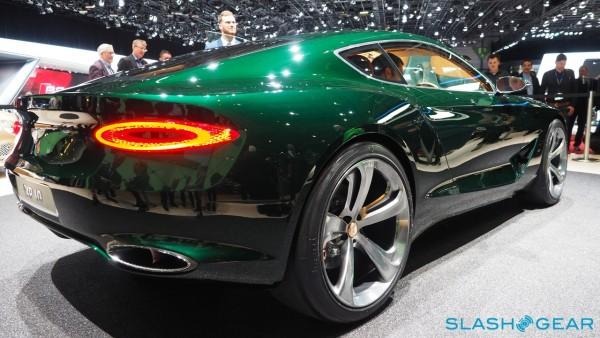 So, the surfaces introduce a lot more flex and movement, shifting away from today's somewhat slab-sided cars to instead keep visual motion going even when the car is standing still. Overhangs are short, wheels huge, the bonnet long, and the rear – a little Aston Martin Vanquish-like from some angles – low and wide.
There's no telling what engine it might have, and Bentley will only say that would envisage the concept setting "a new segment benchmark," but parent VW has a variety of engines that would suit across the range from Audi and Lamborghini.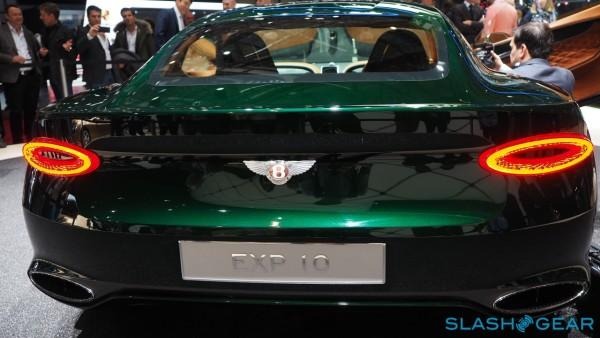 The glistening paint, a deeper version of British Racing Green, is paired with not only chrome and aluminum but, unusually, copper. That, Sangyup Lee, head of exterior and advanced design, told me was a decision based not only on copper being an unusual – thus eye-catching – material to find on a car, acting as a highlight to some of the design elements like the vast brake calipers, but because it's authentic while it does that.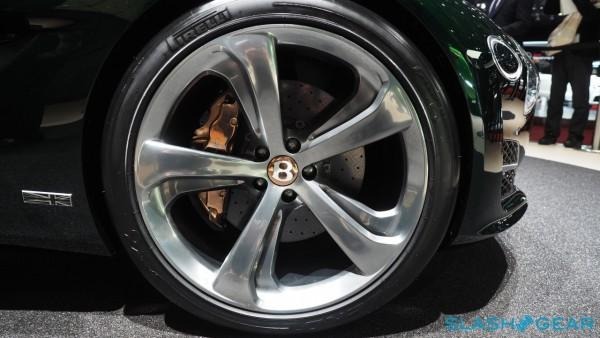 In fact, "authenticity" seems to have been the unofficial slogan of Bentley throughout the EXP 10 Speed 6 design process: taking materials, many of which aren't generally used in automotive, and then implementing them in ways that both celebrate their inherent qualities while also opening the door to bespoke manufacturing.
The headlamps – which, Lee says, Bentley staff have internally come to refer to as "the whiskey glasses" – for instances are single pieces of crystal more commonly used for high-end drink tumblers. Etched with a quilted pattern that echoes the quilted leather Bentley is known for, then backlit, they're both striking and, in the way they gradually "wake up" when the driver approaches, playful in creating an identity for the car.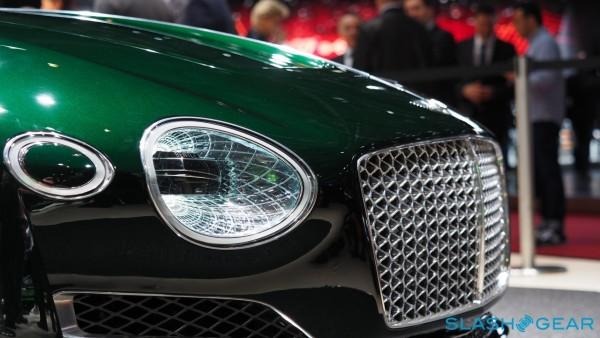 As for the grille, that's one of the better examples of Bentley's flirtations with new manufacturing processes. Traditionally, the Bentley maw is a flat plane of latticework; on the EXP 10 Speed 6, however, it's the result of a 3D printer capable of producing complex metal objects.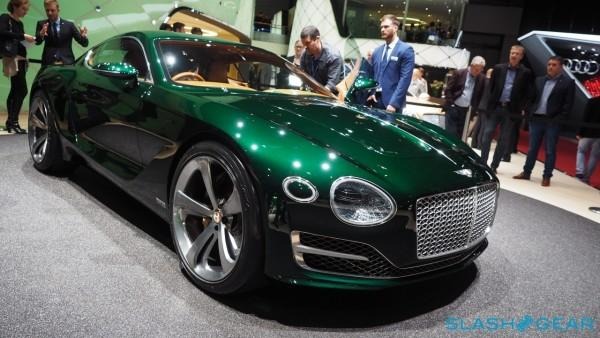 That, Lee explained to me, shifts the balance of expense from the traditional process of making parts, and in a way which is far more conducive to a low-volume manufacturer like Bentley (or its Mulliner customization division). Until now, producing a new part involved the expense of developing custom tooling first: each part was individually relatively cheap, but the upfront cost was high.
In 3D printing, Lee pointed out, all you need to begin with is a digital model. Your individual parts are more expensive than in the old process, true, but if you're only wanting a few of them for a low-number run of cars, it's not only more flexible it's more affordable.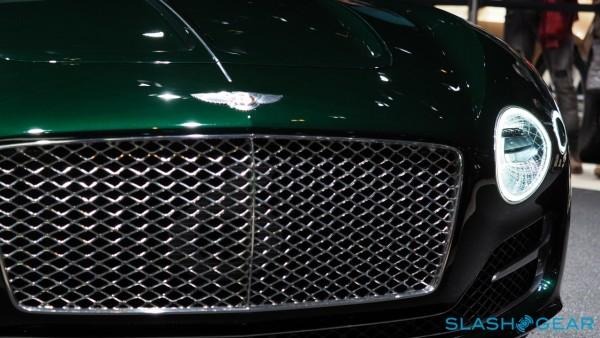 So, the EXP 10 Speed 6's grill is made up of surfaces with varying depths, that change appearance depending on the angle you look at them from. It's also mounted far lower than usual for the marque, giving the concept a lower, more aggressive look.
The same process is carried over to the inside, which is arguably more striking than the exterior. Brett Boydell, head of interior design at Bentley's Studio 2, had eighteen months to work on it, roughly half of which he was effectively full-time on the project. Three other people joined him part-time, coming up with a design different to anything I've seen before.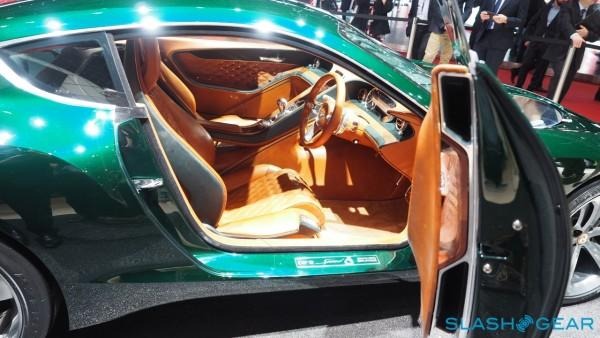 Boydell's concept, he told me, was to not only play to Bentley's past – real wood, real leather, real metal, with a variety of finishes including quilting and knurling – but to upgrade them with manufacturing processes that deliver surprises the closer you look at them.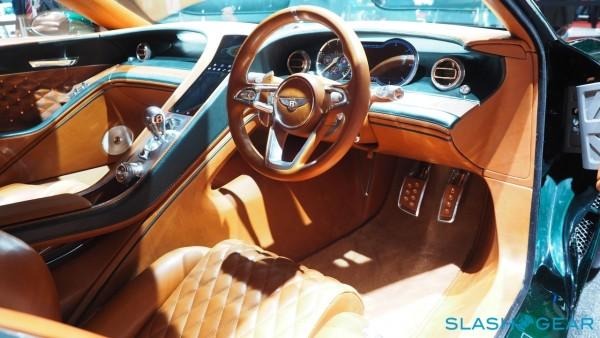 So, below the new 12-inch touchscreen in the center stack, there's an incredibly tactile metal shifter – the Bentley "B" on the side starts the car, and wakes up the combination analog and curved digital driver binnacle that rises up in a bay behind the wheel – and a drive mode selector which are made from both steel and copper. By milling through the outer steel layer, to the point where the copper underneath is exposed, Boydell ends up with controls that reveal more detail as you examine them.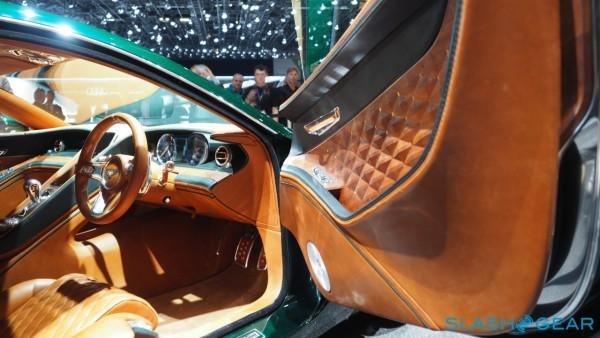 The wood in the doors shows similar attention to detail. While it may look at first glance like quilted leather, in actual fact it's straight-grain cherry wood that has been 3D printed into diamonds. Each has a discrete copper center, and rather than being lacquered to within an inch of its authenticity, Bentley has simply oiled it.
That willingness to let the materials (not to mention the quality of the craftsmanship) speak for themselves is very different to how the rest of the automotive industry approaches manufacturing. Rather than ape the repeatable perfection of mass production, Bentley's idea of luxury revels in individuality. The doors each use four pieces of wood combined, and the woodwork team isn't entirely sure what they'll find inside when they start milling, only that it won't be like anything else.
It's unique, and expensive to do, and for a certain type of audience – one with deep pockets – there's no better way to illustrate what you can afford to drive.
While Bentley is careful to call the EXP 10 Speed 6 a concept, it's also upfront about how it might shape the company's future range. At a minimum, it's a fresh design direction; moreover, we can expect to see things like 3D printing and atypical materials being introduced for customization. That could be anything up to and including unique body panels, Lee suggested.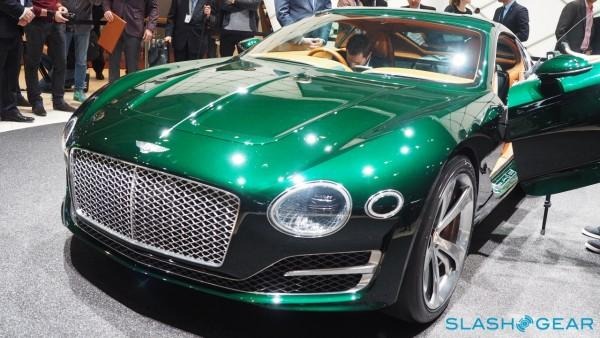 However, if we're lucky – and enough of those deep pockets are turned out to convince Bentley it's a good idea – the EXP 10 Speed 6 will spawn a production car. Sitting alongside, rather than replacing, the Continental GT, it'll be the performance option for those wanting a meatier take on the Bentley Boy tradition.