Bentley Continental GT V8 drops 542hp into sleek coupe and convertible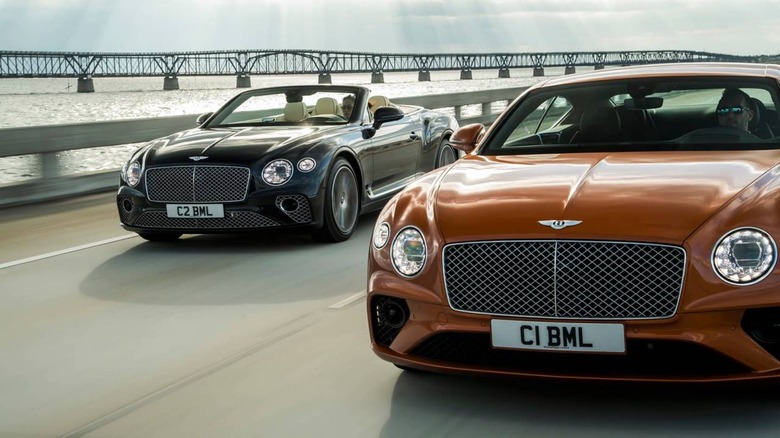 Bentley has revealed two more affordable versions of its flagship grand tourer, with the Continental GT V8 and Continental GT V8 Convertible promising agility along with a more accessible price tag. Joining the existing twelve-cylinder W12 versions of the coupe and cabriolet, the new cars may be down on power but they're hardly weedy.
In fact, the 4.0-liter twin-turbocharged V8 gas engine is good for 542 horsepower and 568 lb-ft of torque. They're figures that only look conservative when you're contrasting them with the 626 hp and 664 lb-ft of the beastly 6.0-liter W12 TSI engine that the Continental GT launched with.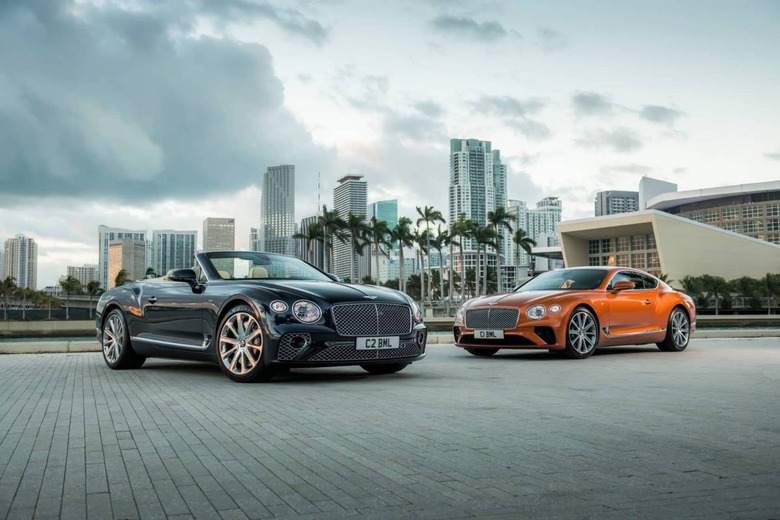 The V8 delivers 0-60 mph in 3.9 seconds in the Coupe, Bentley says, and the two cars should keep going on to a top speed of 198 mph. That's just 0.2 seconds slower than in the W12, while the drop from a 207 mph top speed probably won't prove too embarrassing either. The Continental GT V8 Convertible, meanwhile, does 0-60 mph in 4.0 seconds.
Bentley has paired the new engine option with a returned engine note through the tailpipes, for a more "characterful, burbling" sound, the automaker says. Fuel efficiency is also improved, with the V8 able to shut off half of its cylinders when they're not required, then start them up again in 20 milliseconds. Stop-start, kicking in at near-to-stop speeds, is an option.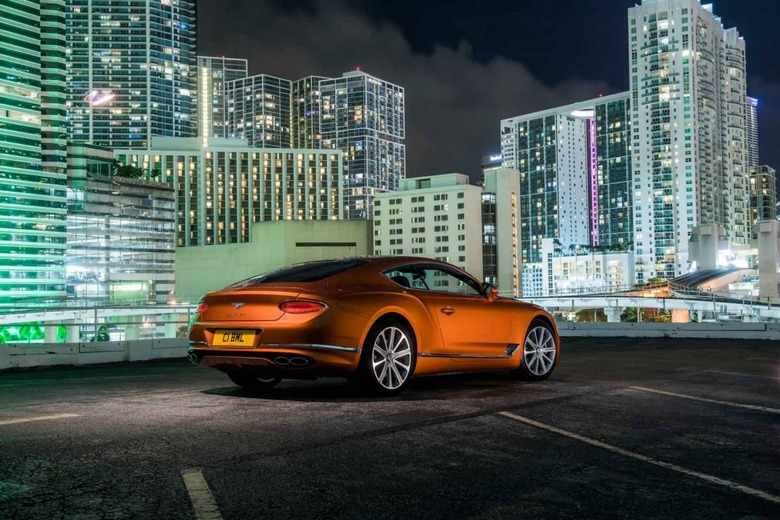 Outside, the handsome styling remains. V8 cars now get 20-inch, 10-spoke painted alloy wheels as standard; up to 22-inch wheels in a variety of designs are available. Seven colors are in the standard range – with more to choose between in the extended range – and there are quad tailpipes and V8 badges on the front wings.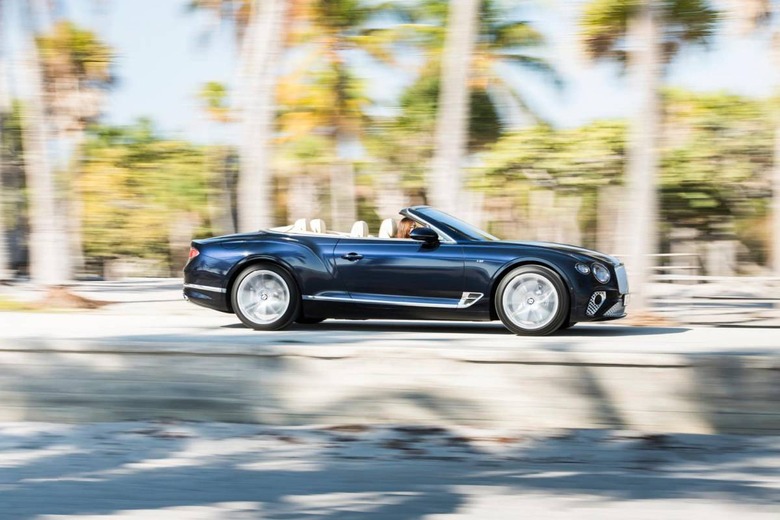 In the case of the Continental GT V8 Convertible, the soft top roof opens and closes in 19 seconds, and at vehicle speeds of up to 30 mph. Seven different hood colors are offered, including a striking tweed finish. The droptop also gets a new neckwarmer – both quieter and warmer than before – integrated into the heated, ventilated Comfort Seats. It works alongside heated armrests and a heated steering wheel.
Inside, meanwhile, there's plenty of leather, wood veneer, and real metal. Twenty-way adjustable seats can be had in a monotone color split, with other finishes – plus contrast stitching, piping, and hand cross stitch options – available. Crown Cut Walnut is standard on the V8 cars' fascia, with other veneers available. The 10-speaker Bentley Audio system is standard too, with 650 watts.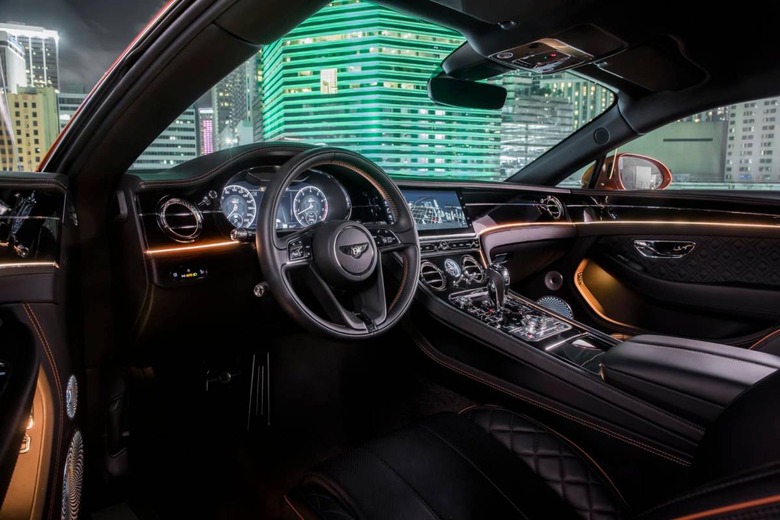 As in the W12, pride of place in the dashboard goes to the Bentley Rotating Display. That flips around between a clean veneer, a 12.3-inch touchscreen, and three analog dials.
Multiple drive modes work with standard air suspension, and there's all-wheel drive with rear wheel bias. Variable rack ratio electric power steering is used, too, while Bentley's Dynamic Ride System is optional. Active lane assistance, traffic jam assistance, and parking assistance are available.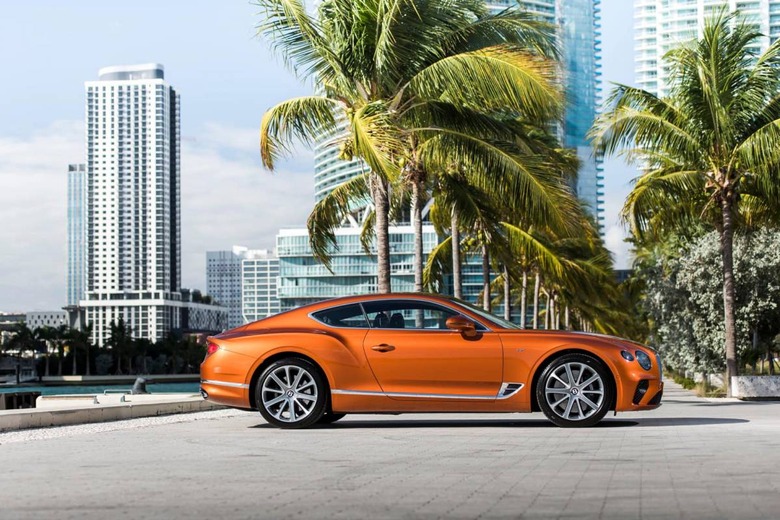 If our experience in previous Bentley V8 cars is anything to go by, the decision to go for eight cylinders rather than twelve needn't just be one based on price. As we found in the Bentayga V8, for example, though power may be down over the W12 the driving dynamics are different enough that some will undoubtedly prefer the smaller engine's character. The V8 feels more urgent and perky than the W12, which feels more suited to long-distance cruising.
Deliveries of the new Continental GT V8 in coupe and convertible form will begin in the US in Q3 2019. In other regions, meanwhile, they'll start from Q1 2020.