BenQ S6 MID price cut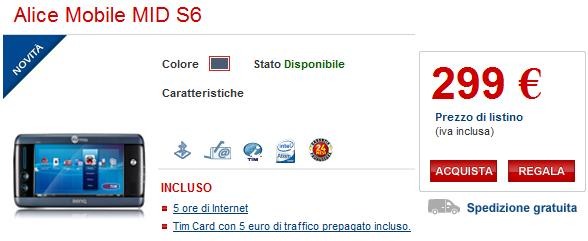 BenQ's S6 MID first went on sale in Italy back in October; now carrier TIM has slashed the price from its original €429 to €299 ($403).  The price is believed to be for an unlocked, contract-free device, which gets you a 4.8-inch touchscreen, 2GB SSD and integrated 3G for a cost we don't normally see Mobile Internet Devices hitting.
Obviously the direct euro to dollar conversion suffers from exchange rate issues, but we're hoping that when the S6 makes it officially into the US the price will be lower than expected.  MIDs were billed as low-cost, ultraportable accessory devices, but to date the relatively-rare devices have been priced roughly the same as a mid-range notebook.
Unfortunately the BenQ S6 is only available, at this price, in Italy right now.  It runs an Intel Atom Silverthorne 800MHz processor, has 512MB of RAM and runs the Midinux Linux OS.  More details here.
[via UMPC Portal]