BenQ nStation i91: all-in-one PC as easy as a TV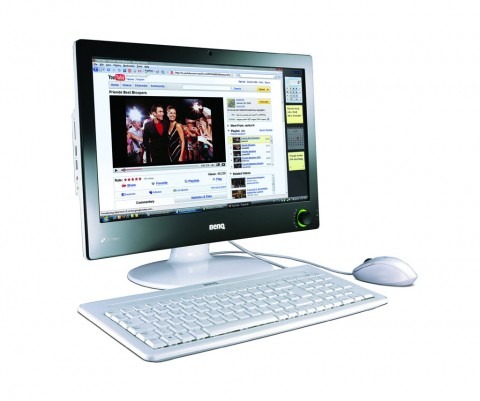 BenQ have announced their own all-in-one desktop PC, and while some manufacturers go for touchscreens and others superlative media playback, the nStation i91 is all about ease of use.  In fact, BenQ are saying that, thanks to their intuitive control knob on the lower right-hand side of the display, the nStation i91 is as straightforward as a TV.  Behind the glossy bezel there's an AMD Semperon 210U processor, 1GB of RAM and a 160GB hard drive, while the non-touchscreen display itself is 18.5-inches 16:9.
Other specs include a webcam, 4-in-1 memory card reader and WiFi.  The knob functions both as a power button – when pressed – and a volume control; on the edge closest to it, there's a brightness rocker control that also resembles something you might find on a TV.
In fact, that only makes it all the more bizarre that, going by the BenQ press release, there isn't actually a TV tuner built into the nStation i91.  Average power consumption is 30W; that will likely be higher in the case of the upcoming nStation i221, which will have a 21.5-inch full-HD display.  The BenQ nStation i91 is available in Taiwan now, priced at NT$17,900 ($517); no word on a launch anywhere else.
[via Digitimes; thanks Pete!]