BenQ Joybee GP1 Review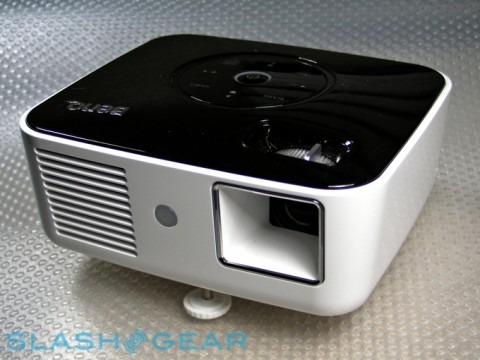 Our previous run-ins with pico-projectors have left us vaguely disappointed, with units that will certainly fit in your pocket but underwhelm in their performance. BenQ's Joybee GP1 has sized itself out pocket-portability but promises improved quality to make up for it; SlashGear put those claims to the test.
The hardware package is a mixed bag of success. The GP1 itself is an attractive, compact box measuring 5.4 by 4.7 by 2.1 inches and weighing just 1.4lbs, made from glossy fingerprint-loving black and white plastic and with a circle of touch-sensitive blue backlit buttons up top. Build quality seems good, and while there's no sliding cover the lens is deeply recessed into the body of the projector.
Less pleasing is the PSU brick, which is around half the size of the pico-projector itself and has no space in the included soft case. That wouldn't be so frustrating if it wasn't for the fact that the GP1 has no internal battery and so will always need an external power supply. The remote, too, is ugly and doesn't follow the same button layout as the touch-keys.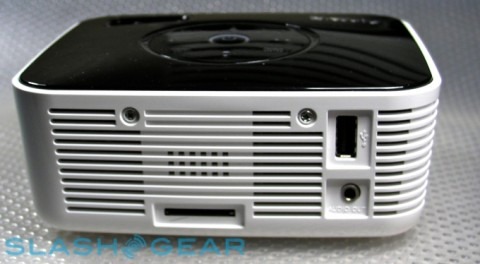 Connectivity is via a proprietary A/V port, with BenQ providing a combination VGA and composite cable for hooking up laptops, DVD players and the like. A $30 optional iPod dock is on the near horizon, too. There's also a USB 2.0 port, which can be used to plug in memory sticks filled with photos and videos; the GP1 is compatible with JPEG, BMP, GIF and TIFF images, and AVI, MP3, MOV, 3GP, 3G2, DivX and Xvid videos. Just underneath is a standard 3.5mm headphone socket, in case the projector's 2W speaker proves insufficient.
Setup is straightforward, with a large, smooth-rotating focus wheel inset into the top panel. A screw-fitting foot raises the front of the projector off of the table, and there's a standard tripod mount underneath. Automatic keystone correction will do its best to keep the projected image level – and does a pretty impressive job, too – and so getting going takes seconds rather than minutes.
Plug in a USB memory stick and, unlike the AAXA P1 or the BeamBox R1, the BenQ media player loads up automatically. It's easily navigable from the remote, although the touch-sensitive buttons on the body of the projector itself require more pressure than you'd imagine, and there are far more tweaking options available than the rival devices offer. These sensibly include adjustments depending on wall-surface and color, multiple picture calibration options, digital zoom and even the choice of a ceiling-mounted mode. Unfortunately there's no way to temper the GP1's fan, which is surprisingly high-pitched and noticeable unless you're watching a reasonably loud film.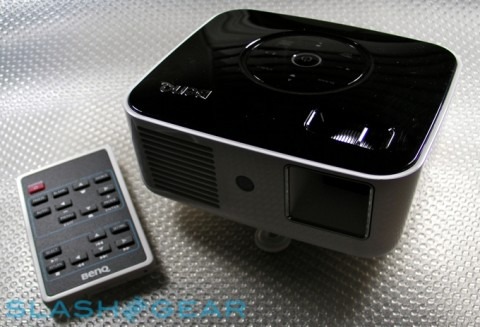 Maximum resolution is 858 x 600 for external sources (the GP1 will accept higher, but downscale them to suit) and 720 x 480 for the onboard media player. Projection quality is high, easily besting that of the other two pico-projectors we've tested, with crisp focus and bright, if over-saturated colors. The 100 ANSI lumens LEDs used to backlight the picture are gutsy but still fall far short of a mainstream projector; in a dark room you can crank the image size up to 60-70 inches at most, though you'll begin to lament the resolution at that point. Try to use the GP1 in a normally-lit room, however, and you're looking at pictures a little over half that size.
We missed the integrated battery and onboard memory of the AAXA and BeamBox projectors, but the Joybee GP1 claws back the advantage by virtue of its improved picture quality. Nothing that will challenge a mainstream projector, of course, but then you're unlikely to be dragging one of those between business presentations or stuffing it into your suitcase for some hotel distraction.
Not as portable, then, and – at $499 – a little more expensive than AAXA and BeamBox's offerings, but the BenQ Joybee GP1 feels more usable and less toy-like. If the company can slim down the PSU and include a sensible bag rather than the half-solution currently supplied, it would easily take the top spot in our pico-projector shortlist. As it is, those looking for maximum portability should look elsewhere, but anybody seeking the best compromise of size and image quality should have the Joybee GP1 near the top of their shortlist.
BenQ Joybee GP1 pico-projector demo:
[vms 83d861c3176a6273cac6]