Benchmarks for Asus ATI HD 5770 video card leak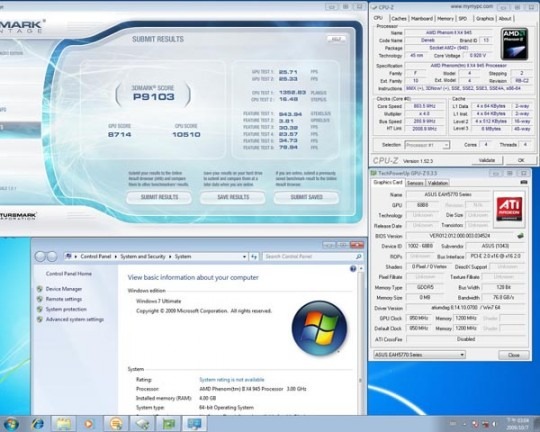 Last week I talked about the leaked specifications and images of the coming ATI HD 5770 and 5750 video cards that had hit the web. Today I ran across some leaked benchmarks of an Asus branded ATI HD 5770 online to give an idea of how well the video cards will perform.
From what these benchmarks show, the HD 5770 beats the NVIDIA GTX 260, the direct competition to the card on 3DMark06, but loses to the NVIDIA product on all other benchmarks. Any gamer will tell you that benchmark performance and real world performance are two different things though.
The 3DMark Vantage GPU score for the video card was 8714 and the 3DMark06 score was 15348. Those are decent mid-range performance numbers. The best news is that the video cards are cheap, if the pricing that was leaked last week turns out to be correct. I'll wait until I see performance numbers on video games rather than synthetic tests before I make my own determination on the prowess of the new cards.