Bem Wireless Speaker Band puts a Bluetooth speaker on your wrist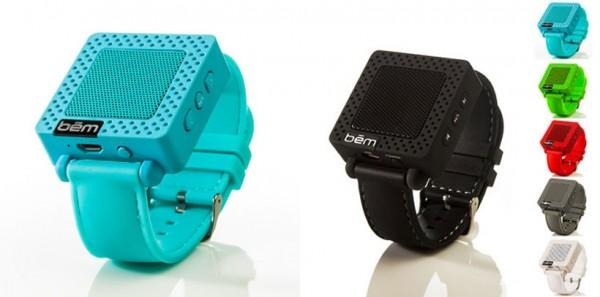 If you are in the market for a new Bluetooth speaker for your smartphone or tablet, Bem Wireless has a new product that has hit pre-order you might want to look at. The device is a wireless Bluetooth speaker that allows you to listen to your music without resorting to headphones. It has a unique design though.
Most of the products we see from Bem Wireless are portable like the Mojo and Speaker Duo we talked about last month. However, none of the products from the company are quite as portable as its latest offering called the Speaker Band.
The Speaker Band is sort of like a smartwatch without the watch. The small Bluetooth speaker is attached to a watchband and lets you strap your tunes to your wrist. The Speaker Band has an internal rechargeable battery that is good for up to six hours of playback the battery charges via a micro USB port.
It comes in six different colors include black, white, green, red, gray, light blue, and green. The side of the Speaker Band has controls for moving through your playlist. One of the best features of the device is that it has a built-in mic so you can use it as a speakerphone on your wrist. The Bem Wireless Speaker Band is up for pre-order right now for $49.99. Shipping is set for sometime in April.
SOURCE: Prelaunch