Bem Wireless Speaker Band Now Available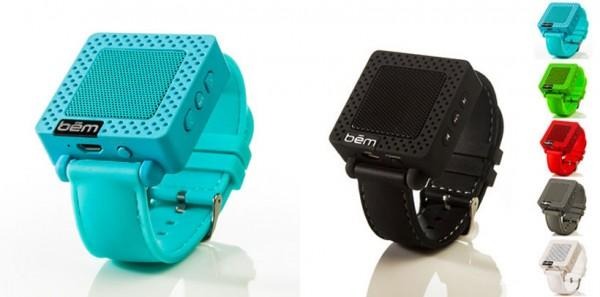 Back in February, Bem Wireless introduced a unique wearable, the Speaker Band. As its name suggests, the Speaker Band is a wrist band that, at first glance, appears to be a boxy smartwatch. Over the face is positioned a grille, however, and beneath it sits a little portable speaker.
The design is an interesting one, and could come in handy (pun intended) in a variety of situations. Normal portable wireless speakers have to be moved when your physical position changes, but the Speaker Band follows you wherever you're going, providing tunes from your wrist.
Someone gardening, out running, or working in an environment where a speaker left sitting around could be damaged are all examples of how the Speaker Band could be used. The wearable features an internal battery that can be charged, which will provide about six hours of run time.
The charging is accomplished via micro USB, and the band is available in six different colors, all of which are featured in the image above. In addition to the speaker, the wrist band also features an internal microphone for using the wearable as a speakerphone.
The device is now available from Bem Wireless for $49.99 USD.
SOURCE: Bem Wireless