Belkin Thunderbolt Express Dock upgraded before drop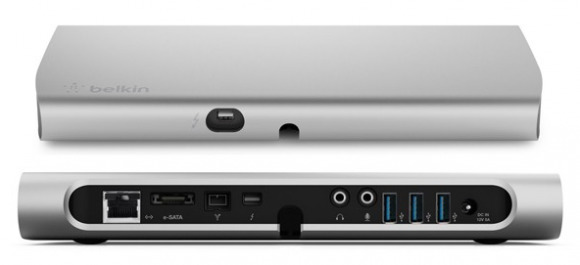 The folks at Belkin really know hot to tease their prospective consumers – with the Thunderbolt Express Dock grabbing an update here well before its actual release. This device will compete directly with the Matrox DS1 Thunderbolt Dock revealed this week and will cost $399 MSRP and will bring a host of connectivity options including three USB 3.0 ports, e-SATA port, ethernet, and FireWire 800. You'll be connecting to your Thunderbolt-laden device so hard you won't know what to do with yourself!
This device is 10Gbps transfer speed that you'll be able to work daisy-chaining to all the devices you want with this dock. You've also got a Mini DisplayPort which you can convert to HDMI with the converter this device has included in the box – finally! This whole setup allows you to make use of that Thunderbolt port on your MacBook Pro that for so long you thought you'd purchased just to sit and look at and admire, finally it can be made useful at long last.
This device will be released sometime this summer, with a select few retailers grabbing it in July. Across the earth you'll be waiting a couple more months unless Belkin does indeed increase shipping from their own site on this product outside the states. Meanwhile you'll want to head below to see every other Belkin product in the near future and past – Belkin is going ahead full steam!