Belkin Thunderbolt Express Dock Review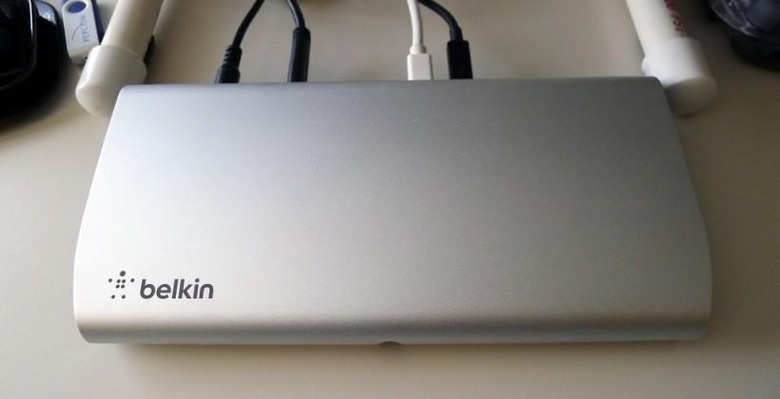 After over a year of waiting, Belkin has finally released its Thunderbolt Express Dock. It was originally announced last year in January and was slated for a September 2012 release, but that obviously never happened. However, Belkin just launched the $299 dock yesterday, and we've taken the time to give it a good look-over and test it out for ourselves. Personally, as a MacBook Pro user who is constantly docking and undocking my laptop at my desk, I wanted to see if Belkin's Thunderbolt Express Dock would make the whole process easier. Let's find out how it fared.
Design-wise, the Express Dock is made to blend in perfectly with Apple's line of Mac machines. It rocks an aluminum unibody shell with black plastic panels on the sides and back, and just like a good mullet, there's not a lot going on in the front, but there's a party in the back — all the ports are situated on the rear of the dock. You'll find an ethernet port, a FireWire 800 port, three USB 3.0 ports, two Thunderbolt ports (which support daisy-chaining), and separate 3.5mm audio-out and audio-in jacks.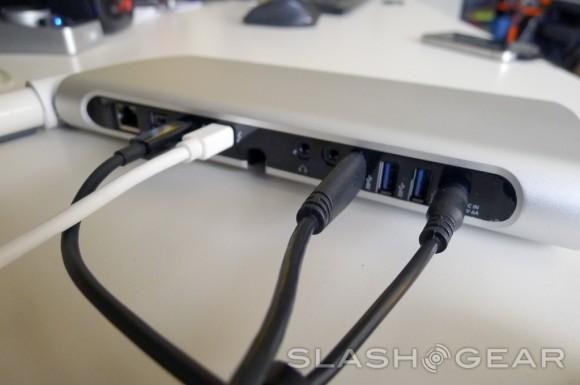 One of the two Thunderbolt ports is used to plug the dock into your Mac, but that's all it takes to get access to all the other ports. Instead of having to plug all of your peripherals in one after another every time you dock your MacBook at your desk, all you have to do is plug everything into the Express Dock when setting it up, and then just simply plug in the dock into your Thunderbolt port. At that point, you'll be all set to go. This fact alone I found really convenient as I didn't have all these cables that I had to keep plugging and unplugging every time I wanted to undock my MacBook. It's just one single cable and you're good to go.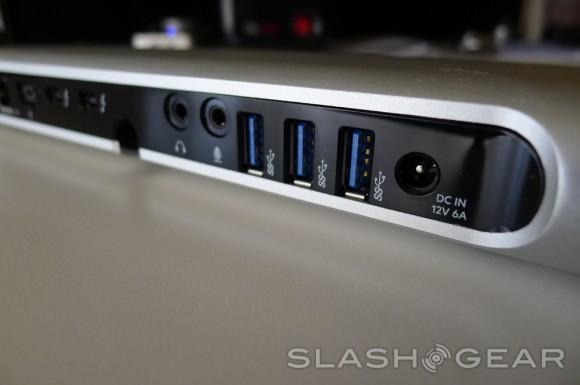 While the Express Dock will work for desktop Macs like the iMac and Mac Pro, it's essentially meant for those with MacBooks, which don't have a lot of options when it comes to ports, especially MacBook Air users. If you use a MacBook as your main machine and want more port options, the Express Dock is about the only convenient option out there. Simply plug in the dock into your Thunderbolt port and you'll instantly have eight more ports at your perusal, which is pretty fantastic.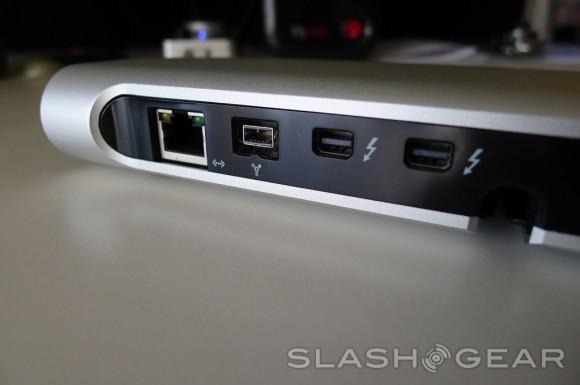 However, there are some caveats. The Express Dock doesn't come with a Thunderbolt cable in the box, so you'll want to make sure that you have one on hand in order to connect it to your Mac. Secondly, the Express Dock requires OS X 10.8 Mountain Lion to take advantage of all its capabilities. The dock will at least work on older versions of OS X, and I was able to hook up a Thunderbolt display to the dock, but it wouldn't recognize any of the USB 3.0 drives that I had on hand, nor would the audio ports work. However, once I connected it to a Mountain Lion machine, everything worked flawlessly.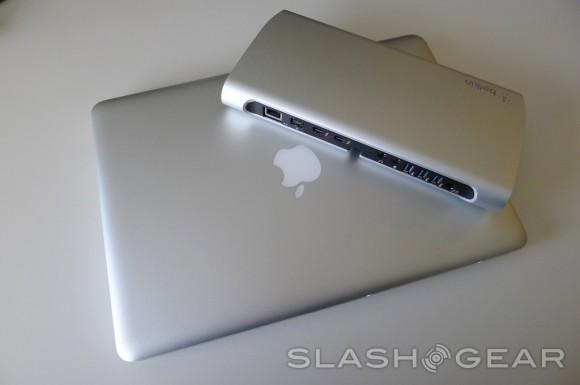 Another thing to keep in mind is that the USB 3.0 ports on the Express Dock are limited to 2.5Gbps, which is almost half the speed of what it's supposed to be at (4.8Gbps). We're not exactly sure why this is, but it's still much faster than USB 2.0, which Macs are still sadly stuck at (unless you have one of the newest models). I also noticed that the dock would get hot after a short while, including both ends of the Thunderbolt cable. Nothing exploded, thankfully, but it was always a bit of a concern after I had it plugged in for an hour or so and had tons of things plugged into it. It never got hot enough that I couldn't touch it, but I was certainly surprised that it gets a bit warm.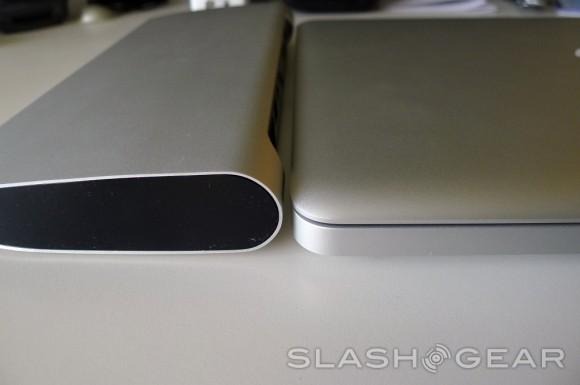 Portability is another thing to consider, especially since the dock is catered towards MacBooks. The Express Dock is lightweight and can easily fit into a backpack to take with you. However, the power adapter that's required to power the Express Dock makes the device not too portable-friendly. It's about the same size as a typical laptop power adapter, which isn't a bad thing, since they're also made to be portable along with the laptop its charging, but if you were to take both your MacBook and the Express Dock with you on the road, you now have two bulky power adapters to deal with. The dock can certainly be portable, but it's really up to the user whether or not lugging it along will be worth it.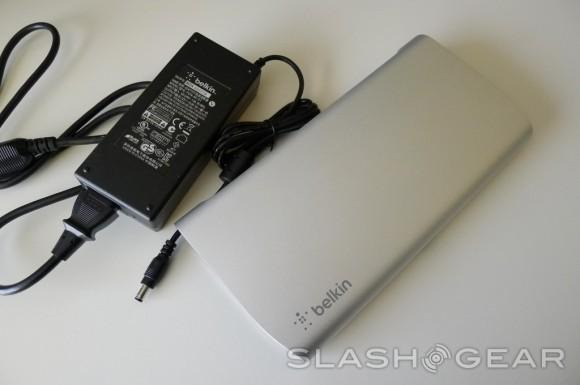 In the end, Belkin's Thunderbolt Express Dock is the perfect companion to a MacBook power user. However, you'll have to think long and hard about whether or not you truly need it, since it costs a whopping $300, so it isn't just something that you can buy impulsively. There is a cheaper option available for $250, but that's still a hard pill to swallow. Then again, if you're like me and constantly find yourself docking and undocking your MacBook, dealing with a tangle of numerous wires at the same time, the Express Dock could be one of the best convenience products that you ever buy. Plus, if you're rocking a MacBook Air and wish you had more ports at your disposal, the Express Dock is a good choice for that too.