Belkin Thunderbolt 3 Dock Adds More Ports To MacBook Pro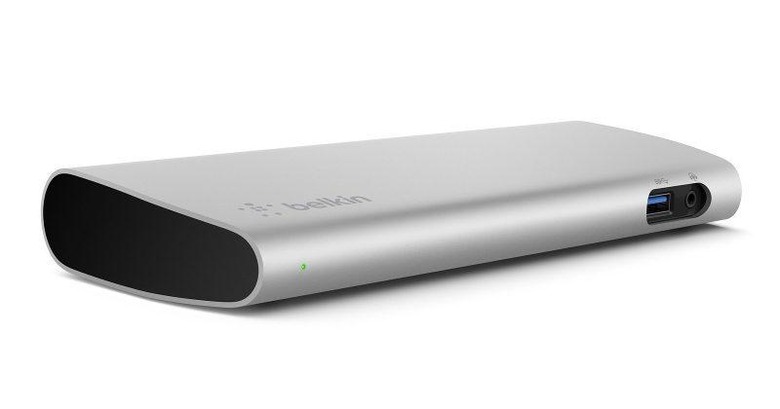 Apple device announcements always means new accessory announcements as well, and for the new MacBook Pro, that practically boils down to one thing: Thunderbolt 3 accessories. Well, and USB-C accessories too, by extension. Joining the fray, accessory maker Belkin has unveiled its Thunderbolt 3 Express Dock HD, taking advantage of the four Thunderbolt 3 ports on the new MacBook Pro, offering a "true" single-cable solution and answering the biggest problem in laptops: not having enough ports to connect everything.
The New MacBook Pro has four Thunderbolt 3 ports, each of which also support the new USB-C standard. But, for some people, even four ports just aren't enough, especially when you're going to reserve one for charging. Even worse, you'll eventually have to use adapters and dongles to plug in everything else that isn't a USB-C or Thunderbolt 3 plug.
While dongles are fine on the go, on a desktop, they're such a hassle. Belkin's Express Dock HD promises less tangles by having only one and only one connection from the MacBook Pro to the Dock. Of course, you'll have even more cables sprouting off the Dock, but at least those you can hide.
Thunderbolt 3 features the very same multi-functional advantages of USB-C, minus the charging part but with even faster data transfer speeds. Thanks to that, this Belkin dock can daisy chain p to five Thunderbolt devices, charge USB devices, or support either two 4K monitors or one 5K output. You won't be lacking ports either, with two Thunderbolt 3/USB-C ports, three USB-A 3.0 ports, one DisplayPort, one Audio In/Out and one dedicated Audio Out, and one Gigabit Ethernet. And that's just using a single Thunderbolt 3 connection to the MacBook Pro. Imagine the possibilities with the other remaining free ports.
Belkin has not yet revealed availability or pricing details for the Thunderbolt 3 Express Dock HD other than "soon". But when it does become available, it can be purchased from Belkin and Apple's online stores or directly from Apple stores as well.