Belkin NetCam HD Wi-Fi camera can now spy on you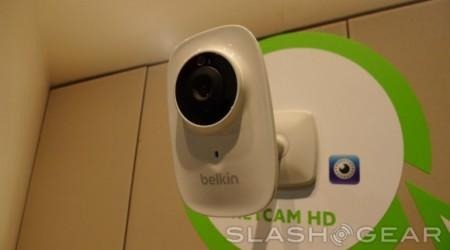 During CES in January, we spent some hands-on time with a new Wi-Fi camera from Belkin called the NetCam HD Wi-Fi Camera. At the time as close as we had to an official launch date was "spring." Belkin has now announced the official availability for the little camera and you can purchase it right now.
The camera is model number F7D7602 and has a number of nice features designed for keeping an eye on your home while you're away, kids, pets, and just about anything else you might want to view from afar. The camera has 720p HD resolution and video streams can be accessed via smartphone or tablet. Belkin offers an application for both Android and iOS devices allowing complete control of the camera over a Wi-Fi network.
In addition to offering HD resolution video, the camera also supports the streaming of digital audio. The device can be set up completely using a mobile phone, eliminating the need for computer. Belkin integrates infrared night vision into the camera allowing it to stream images with little or no light. The camera also uses a wide-angle lens allowing for more viewable area in the video.
Users can also set the camera up to send e-mail alerts when it detects movement and the live streaming video can be recorded to mobile devices using the application. The mobile phone applications are available for iOS 4.2 or higher and Android 2.2 and up. The camera is available to purchase online and in retail stores for $149.99.
[via Belkin]