Belkin AV360 converts HDMI to 27" iMac Mini DisplayPort input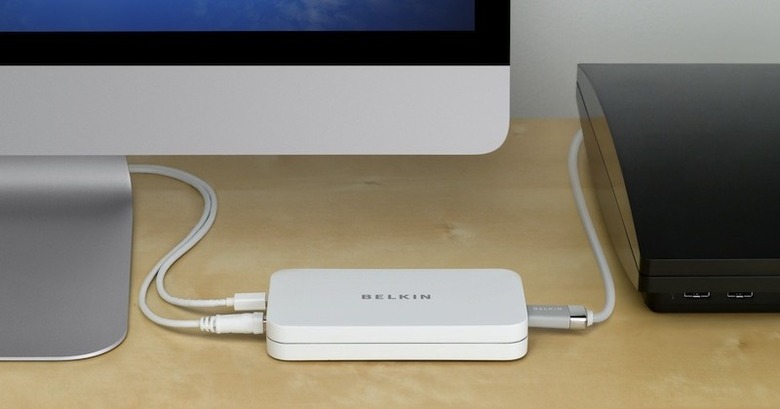 If you've ever stared angrily at your 27-inch iMac and asked what – beyond OS X – it's ever done for you, then Belkin's new AV360 Mini DisplayPort Converter may be just the ticket.  The converter box is capable of taking in an HDMI input – such as from a games console, set-top box or Blu-ray player – and outputting it in through a Mini DisplayPort connector.
That takes advantage of the 27-inch iMac's Mini DisplayPort input, which basically allows it to work as a standalone display for an external source.  The AV360 is powered from a USB connection, supports HDCP and stereo audio.
However, while it will accept a 1080p HD input, the AV360 only actually outputs 720p HD to the iMac, which could be a disappointment for some hoping to use the full extent of the 2560 x 1440 display.  The Belkin AV360 will go on sale later this month, priced at $149.99.
Press Release:
Belkin Introduces AV360™ Mini DisplayPort Converter for 27"iMac

New converter brings HD content from game consoles, cable, or satellite TV boxes to 27" iMac

(Playa Vista, CA) -June 21, 2010 – Belkin announces its new AV360 Mini DisplayPort Converter that adapts the signal from an HDMI® audio video source, such as a Blu-ray® player, Xbox®, PS3®, or cable box, to a DisplayPort-compatible signal. The new converter supports high-resolution video and audio, allowing customers to display HD content from external devices on the 27" iMac.

AVAILABILITY

Belkin's AV360 Mini DisplayPort Converter for 27" iMac will be available in late June 2010 in North America, Europe, and Asia.

AV360 Mini DisplayPort Converter (F2CD007) – $149.99

Accepts full 1080p signal, provides 720p to iMac

Delivers stereo audio

HDCP-compliant

Includes the 4 ft. Mini DisplayPort to Mini DisplayPort Cable

Includes 4 ft. USB cable (powered by the USB connection)

Designed to complement supported Apple products

Mini DisplayPort to Mini DisplayPort Cable , 4 ft (male to male) (F2CD008tt1.5M) – $29.99

Male-to-male cable

Displays content from a MacBook to iMac for an extended desktop