Behringer to launch OMNI AirPlay System, iNUKE Boom Jr. at CES 2013

Audiophiles take note, because Behringer is set to officially unveil its new OMNI AirPlay sound system during CES 2013 next week. The OMNI AirPlay system, as you might have already guessed, takes advantage of Apple's AirPlay technology to bring the task of creating a home sound system into the wireless realm. By connecting the speakers and components in the OMNI system to your wireless router, you'll be able to stream music over your Internet connection from your iPhone or iTunes.
While that's cool enough on its own, the OMNI AMP allows you integrate your legacy speakers into your sound system, so you don't have to worry about ditching your old speakers (which we can't imagine were all that cheap) just because you're using a new wireless system. The OMNI AirPlay system also includes the ONMI Link, which is a "stereo receiver for any active amplified system."
Next up we have the OMNI SP3i and the SP5i, which are both active three-way speaker systems that respectively feature 4-inch and 6-inch subwoofers. Rounding out the collection of equipment in the OMNI system is the OMNI Surface, which is comprised of active three-way, wall-mountable flat panel loudspeakers. That all sounds great, but the real winning feature here is the ability to set up a wireless sound system using both your new and old speakers. That's sure to come in handy for people who have purchased a lot of audio components throughout the years.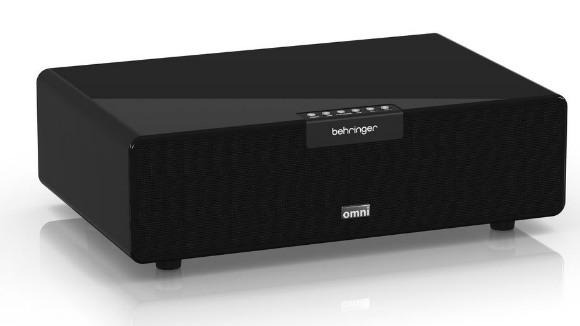 During its time at CES, Behringer will also be introducing the iNUKE Boom Jr. This is obviously a smaller version of the original iNUKE Boom, only with this iteration, Behringer has ditched the dock in favor of Bluetooth, meaning more wireless functionality. It's also AirPlay compatible, so you've got quite a few noteworthy features in the iNUKE Boom Jr.
At the moment, we're not sure when Behringer will be launching all of this new audio equipment, nor do we have a solid price. Behringer says that it will be offering these "affordable" audio solutions at "projected price points" of $299 and below, though it didn't part with any specifics. Look like we'll just have to wait until the official unveiling at CES 2013 to find out more!