Behold, ASUS' monstrous Crown of Thorns router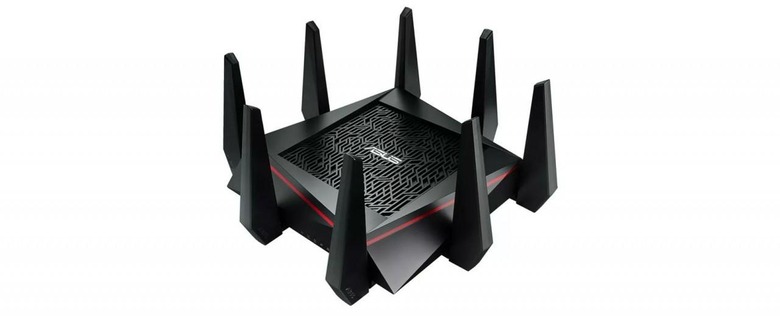 Nobody ever said that home networking kit couldn't be terrifying, and ASUS clearly took that to heart. The company's latest wireless router, the ASUS RT-AC5300, takes "world's fastest WiFi" as its primary boast, but we can't get past the intimidating looks.
If Google's OnHub is the cuddly, easy-to-love wireless option, ASUS' RT-AC5300 is perhaps the router-of-choice for the Game of Thrones generation.
Most obvious, clearly, are the eight dual-band antennas which ASUS says will add up to vast quantities of coverage in even tricky homes and small offices. They clip off, too, which might allow you to the shape service area.
On the 2.4GHz band, you're looking at up to 1 Gbps rates – theoretically speaking, anyhow. Two 5GHz bands are offered, each good for up to 2.167 Gbps – again, in theory at least – and they can be paired together for a maximum of 5.3 Gbps.
There's WiFi b/g/n/ac, a gigabit WAN port, and four gigabit LAN ports on the back. ASUS also throws in a USB 3.0 port and a USB 2.0 port, for adding shared printers and storage.
However, you could alternatively plug in a 3G/4G modem and have cellular backup should your home internet connection go down.
ASUS says the RT-AC5300 will hit stores before the year is out, with pricing to be confirmed.