Behold a Multi-Touchscreen Tablet with Removable Hard Drives, a Smartphone, and a Tablet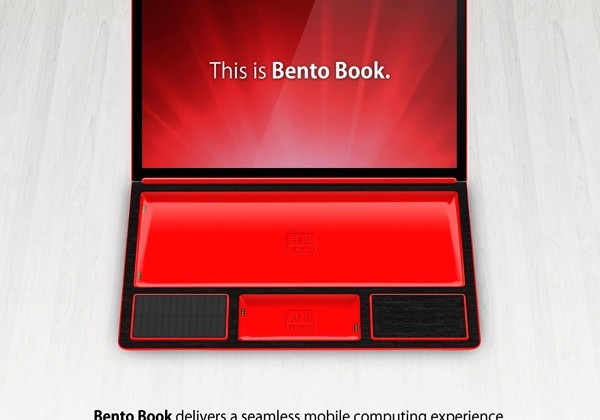 While this post began as a simple presentation of the industrial design concept we're about to take a look at, it transformed ever so slightly into a work that explores what the possibilities could be for touchscreen conglomerations such as this. The concept at hand is called the Bento Laptop Tablet Hybrid and it's designed and rendered by Rene Woo-Ram Lee. This concept is sent to us by our good friends at Yanko Design, a site dedicated to such conceptual works. This design features a laptop with a 15" OLED touchscreen, a 1TB SSD drive, a solar-powered lithium-ion battery, an 11" tablet computer and a 4" phone, all of these bits able to sit in shallow depressions in the base of the laptop and connect as one device.
The interface for the devices included in this project appear to be something like a mix between Android and BlackBerry OS, but given the state of the project (very very early in it's conceptual stages,) it would be a farce to claim that it was either one or the other. What you're dealing with here is a 15.4" 16:10 OLED display having notebook in which several other components rest. The first and largest is an 11" 21:9 OLED tablet (that's long!), the second an extended solar powered Li-ion battery, next a 1TB SSD drive, and finally a 4" 16:9 OLED display toting smartphone.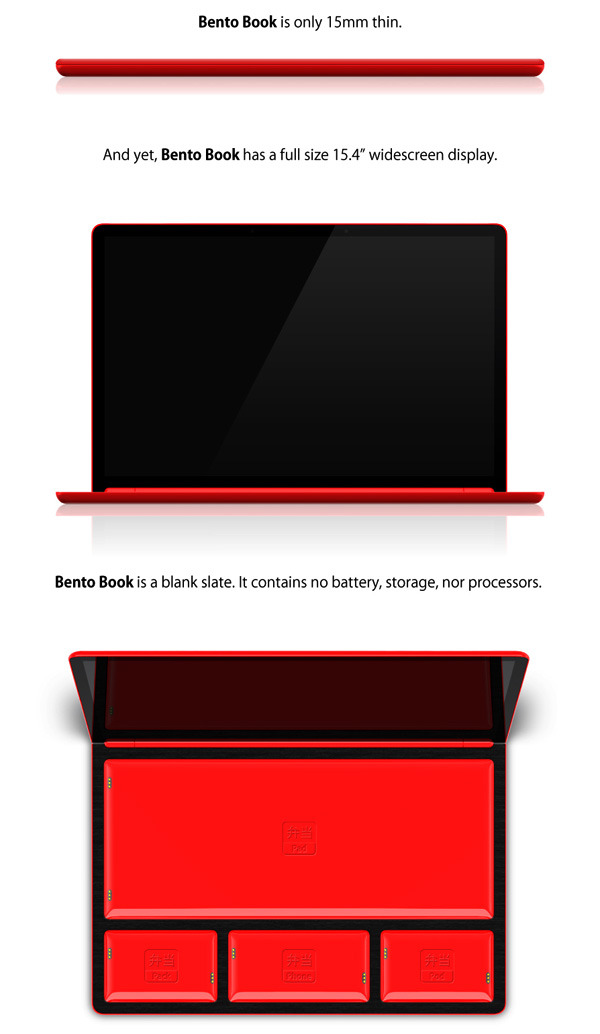 The entire device group, when closed, is only 15mm thick. While the notebook has none of its components plugged in, it acts only as a display. There are no batteries, storage, or processors built in. Once the additional four components of this device are docked, you've got a fully functional laptop which uses touchscreens for its keyboard and trackpad (or whatever else you need them to act as.) One of the more interesting conceptual uses for this setup to me is the Photoshop key changes – all your shortcuts at the press of a single button, displayed in the position of your keyboard.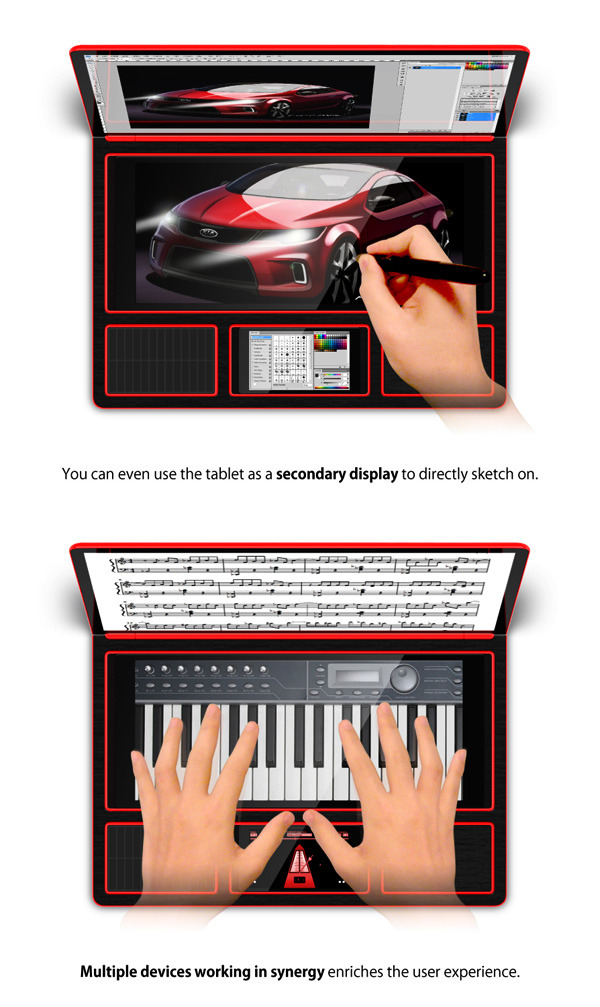 How about a display showing notes while your tablet shows keys on a digital piano, your phone the metronome? How about your tablet working as a drawing pad while your laptop display shows additional options again, in Photoshop? Tabs in the tablet, full-screen web browser in the laptop display?
Then there's the physical aspects of the tablet. It's a 21:9 ratio 10-inch tablet – that's never been seen outside the Kyocera Katsura (which, incidentally, we're still very excited about.) The back of this tablet has a lot of rubber for superiority in grippage – excellent! There's a kick-stand built in as well – finally! It also has the ability to work as a bluetooth wireless keyboard – of course!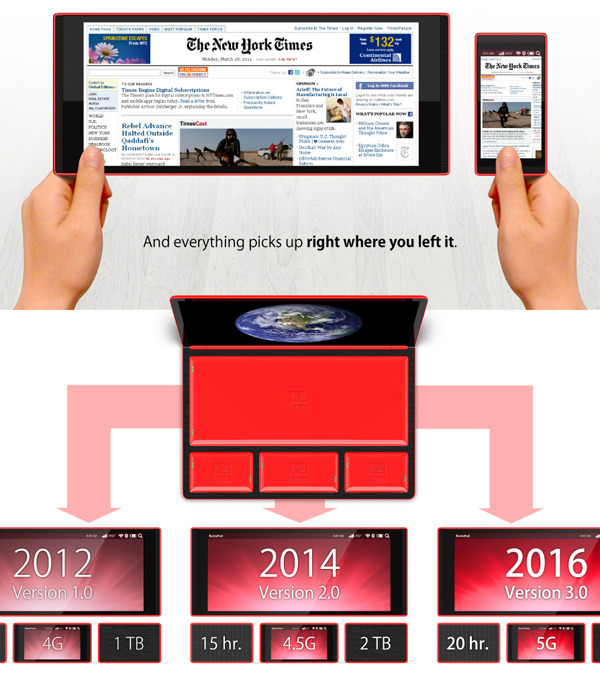 Finally, from what I understand, the entire system will be upgradable as time goes on. Similar to what some businesses are calling "future proofing," this device will be supported by its manufacturer, allowing for upgrades to each different bit as more powerful processors are able to fit into the same small package. Can you imagine such a technology? Seems sort of wonderful, perhaps impossible, but always fun to look at – lots of red and black for a great attack!
[via Yanko Design]