A team of former Google employees are taking on Sonos with a new music streamer, aiming to do for whole-home media playback what Google's own Chromecast did for easy video access. Beep is up for preorder now, a stylized volume knob that's actually a touch-sensitive control, and which funnels music over your WiFi network to whichever speakers you plug in. Then, using Beep's control apps for iOS and Android, users can pipe audio from Pandora and their phone or tablet.
Where Sonos started out with adapter streamers for existing speakers, then segued into focusing on all-in-one systems – most recently the $199 PLAY:1 – Beep has opted to go for the bring-your-own-speaker crowd. Just about any powered speakers – i.e. with their own amplification – will work, the startup says, as long as they have an aux-in, RCA jacks, or optical input.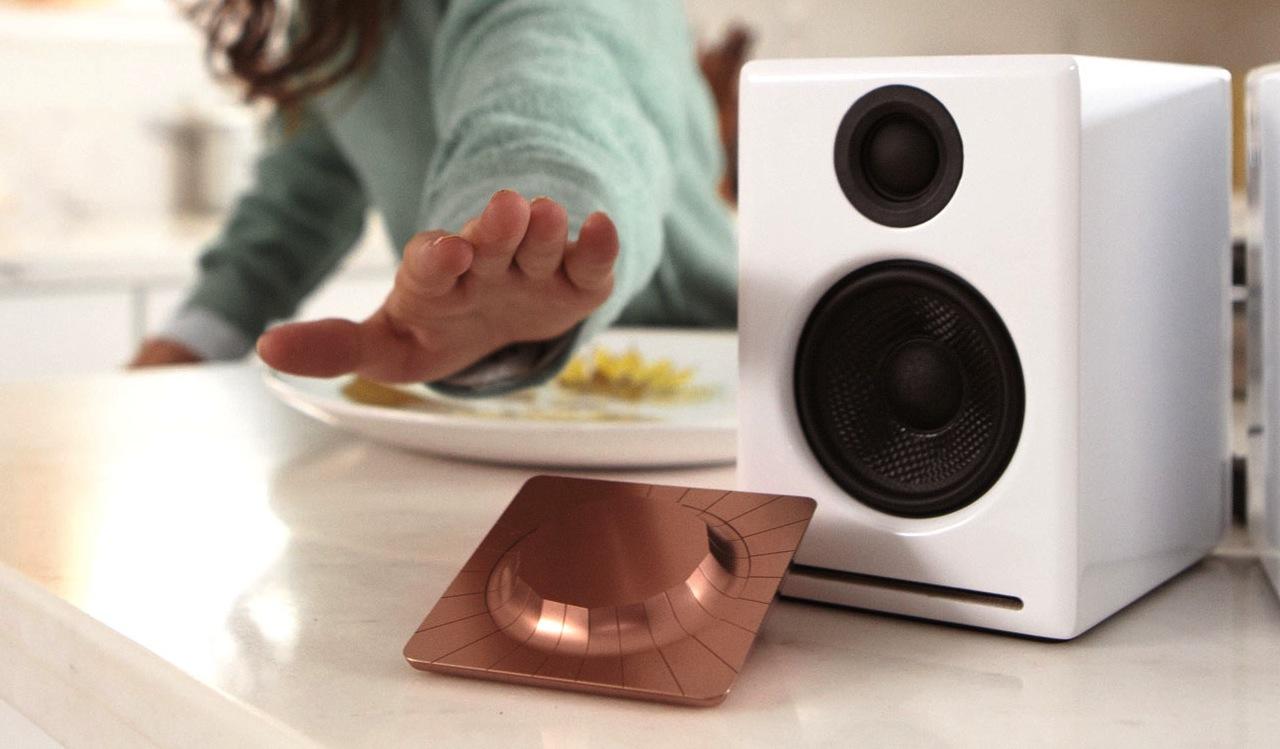 Basic control is courtesy of the Beep unit itself. Tapping its surface resumes playback of the most recent track or playlist; a twist adjusts the volume. Finally, another tap pauses playback. LEDs around the rim show playback status.
Anything more significant, such as actually setting up a playlist or choosing music from Pandora, is done through the apps. So far Beep only has one announced third-party partnership – conspicuously missing are things like Spotify, Google Play All Access, Beats Music, and similar services – though the company says more are in the pipeline.
Inside, there's a 24-bit DAC which works with MP3 and AAC files stored on iPhones, iPads, and Android phones and tablets. Right now, though, there's no support for streaming from a computer on the same WiFi network or a NAS. Up to five Beeps can play simultaneously and in sync, a constraint of the WiFi connection; alternatively, different units can be grouped into different sets for various playlists around the home or office.

It's an interesting approach, though not one that's entirely new. All the way back in 2010 we reviewed ORB's Music MP-1, for instance, which did effectively the same thing. Google's Chromecast does similar for video, while of course the ill-fated Nexus Q was another attempt at the streamer market.
Beep's attempt to differentiate is in the style and the finish. The knob is certainly handsome, and the copper or gunmetal color options are sleeker than many streaming music devices we've seen. For the preorder stage the price is good, too: $99 apiece. However, that will go up to $149 after the fall launch, at which point it's getting a little too close to Sonos' entry-level speaker for our liking.