BeBook Live Android tablet lands in UK on June 21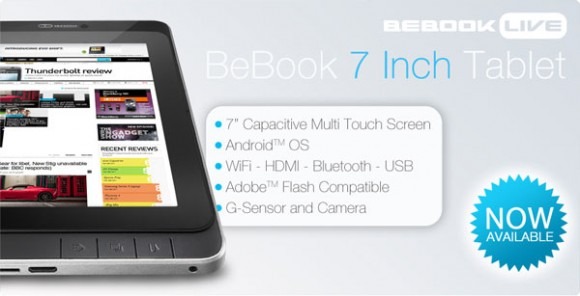 If you are in the market for a cheap entry-level tablet that runs the Android OS and has decent hardware, you might be interested in the BeBook Live tablet. I mentioned last week that the little tablet had been tipped to launch this summer at an affordable price of around $280. This summer is rather vague and could mean anywhere from a few weeks to a few months from now. BeBook has offered the official launch date for the tablet via an email to interested folks in the UK.
The email fingers June 21 as the official launch date in the UK with a RRP of £229. There is no mention of the official launch date for the Live in the US noted in the message, but it would be safe to assume the US launch would be the same day or shortly thereafter. If you have missed the other coverage of this tablet, I will run down the specs for you. The tablet reminds me more than a little of the Nook Color and should prove to be similarly hackable.
The tablet runs Android 2.2 and has a 7-inch multitouch screen with 800 x 600 resolution. It packs in 512MB of SDRAM and has 4GB of storage. That storage can be expanded using microSD cards up to 32GB. Other features include a front webcam for video chatting and HDMI output. The tablet will support eBooks and games. The processor is a 1GHz Samsung Cortex. What do you think are you interested in this as an entry-level tablet?
[via Android Community]