BeBook Live tablet to land this summer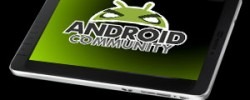 The market is slowly starting to flood with lots and lots of Android-powered tablets. One of the latest to break cover is the BeBook Live tablet. BeBook is more know for eReaders than tablets. The BeBook Live is going to be a reasonably priced tablet with a MSRP of about $280. The tablet will run Android 2.2 rather than 3.0 like the high-end tablets use. Under the hood, the little tablet will have some decent, but a bit boring, hardware.
The processor is a 1GHz Cortex from Samsung. The screen is a 7-inch multi-touch unit with a resolution of 800 x 600. It has 512MB of SDRAM and 4GB of internal flash storage for your files and content. Like most Android tablets, the little machine will also have a microSD card slot to up that storage capacity further. The microSD card slot will support cards up to 32GB. Other features include a 1MP front camera for video conferencing and a mini HDMI port.
Other features of the tablet include support for Adobe DRM for publishing PDF files and it will allows the user to read all sorts of magazines and other content. It will ship with pre-installed apps including EBuddy, Rockplayer, and a game called Tank Hero. You can see the tablet in action in the video below. The exact launch date is unknown.
[via Android Community]