Beats Studio next generation headphones slated for launch in August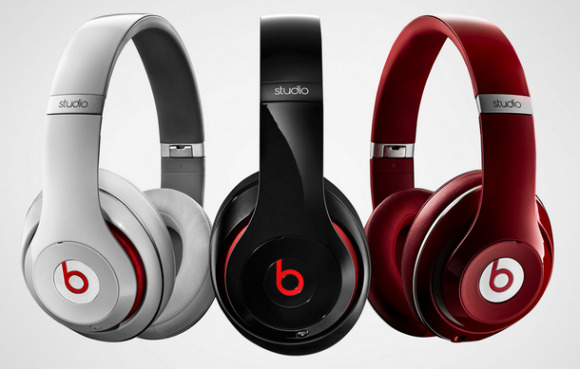 Beats Electronics has rolled out the carpet for its next-generation Beats Studio headphones, announcing that they will be available for purchase in August with a price tag of $299 USD. With the latest version comes a promise of improvements across quality and design, as well as a rechargeable Lithium-ion battery, something the original lacked.
As far as design goes, there are three options featured in the image above. The latest generation of Beats Studio uses a lighter material than the original version, and is designed to be both stronger and more flexible. The headphones feature no straight lines, and none of the screws are visible. Likewise, the ear cups can be adjusted to fit the wearer via an "ergonomic adjustment mechanism," a change over the last version.
The headphones utilize adaptive noise cancellation, more commonly called ANC, which includes two modes: a music mode, and an increased noise cancellation mode that results from unplugging the cable. In the former mode, Beats Electronics says the combination between noise cancellation and music is balanced, with the materials used in the construction aiding the process.
Beats Acoustic Engine – a digital tuning software – is used to tune to Beats Studio headphones for proper sound quality, while manually swapping batteries is a thing of the past with the integrated rechargeable battery. Use time comes in around the 20 hour mark on a charge, which is achieved using either a USB cable or a standard outlet. There's a built-in charge indicator in the form of 5 LEDs, as well as automatic shutdowns to help conserve the battery.
Said Jimmy Iovine, "With the original Studio headphone we set out to prove that people all around the world care enough about sound to invest in it – and we did. Now we are taking it a step further.The new Studio is tuned with balance, accuracy and emotion, has a breathtaking design and truly innovative technology. This is the sound of the future."
SOURCE: PR Newswire