Beats Music Review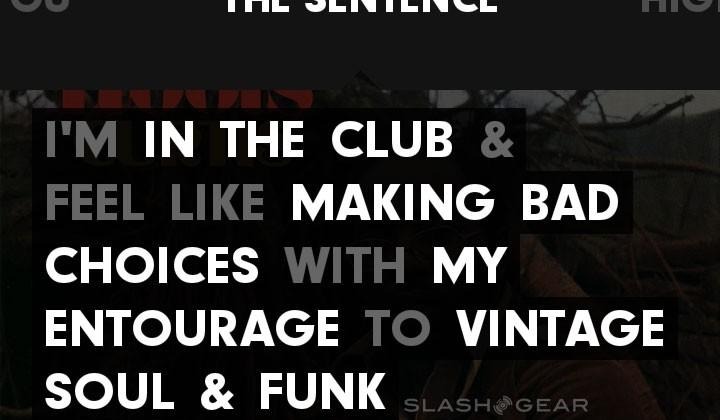 When you open Beats Music – after you've signed up or signed in – you're not going to find a playlist of music you've listened to a thousand times before. Beats Music is a system that's pushed to create a music-driven experience. Instead of being just a conduit through which music is served, Beats Music makes a real effort to be a real bartender of the drinks that are musical tracks. Beats Music is not an MP3 player, it's a virtual DJ.
Of course, like a DJ, you're still able to make your own requests. Beats Music selects tracks and curates lists based on your likes, wants, and needs. Your initial introduction to the ecosystem here is a rather fine looking set of bubbles that you'll expand or pop based on your preferences. Once you've chosen genres, you'll choose a number of artists.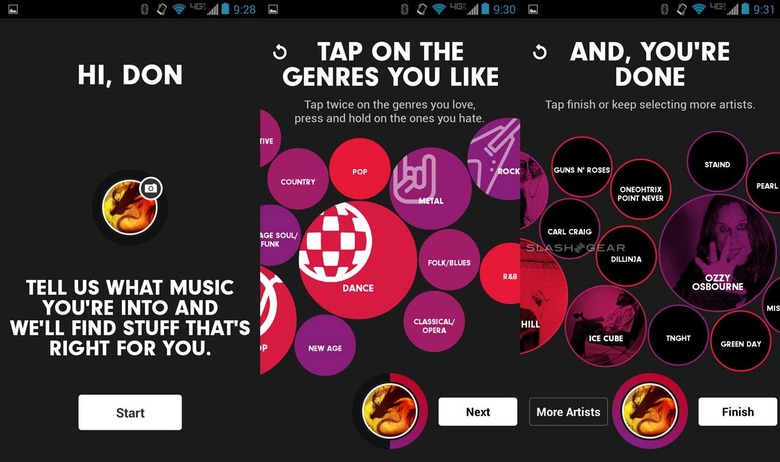 Once you're inside the main UI, you'll find more inroads toward music of many types than you'll know what to do with. Unlike most other, much simpler music serving services, Beats Music takes the time to serve you in a variety of different ways. One of these ways is "The Sentence".
In the collection of odd ways you'll see music served here, "The Sentence" has to be the strangest. Here you'll find a set of phrases that ultimately create a situation in which a list of songs will fit. However strange we've made it, the music still seems to fit.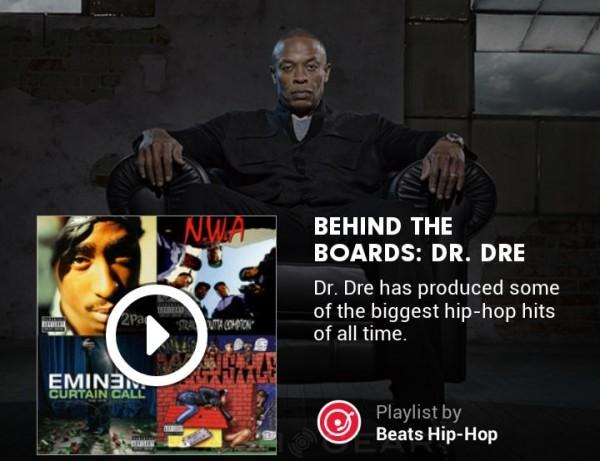 Throughout the experience, it should be made clear, there aren't any advertisements – no video ads, no banners, and no audio commercials. As this is a pay service, you've payed your way out of such pandering.
In the upper right-hand corner you've got what amounts to a notifications list. You'll only begin to see notes here once you've begun tapping in to your favorite artists or curators – they'll be able to send you updates about new lists, new albums appearing with the service, and so forth.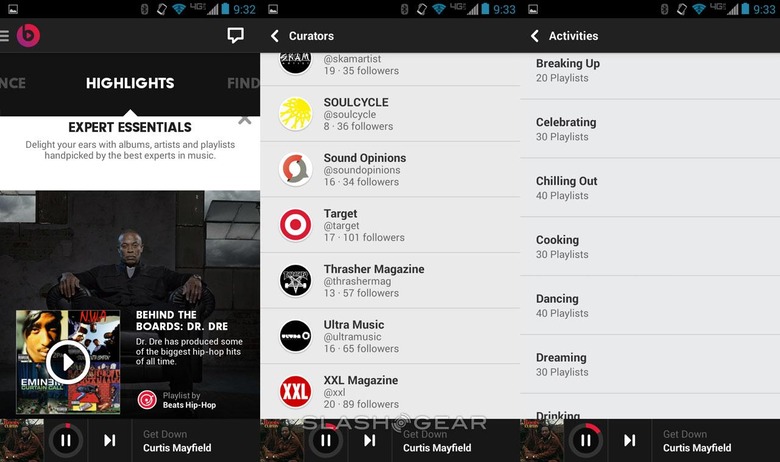 You can use the Find It tab to run through Genres, Activities, and Curators. The Highlights tab brings a collection of albums, artists, and playlists "handpicked by the best experts in music." And the initial tab you see when you first open the app each day you're rolling with it is "Just for you." Here you'll find such lists as "Best of Golden Age Hip Hop, Vol.1" and "Intro to DIO".
Interspersed with lists are albums, and below each album is a link to the artist. While we've been trained to distrust any user interface that's more complicated than name and link, here the designers of Beats Audio have created an experience that's intuitive and very obviously finessed by experts in graphic design.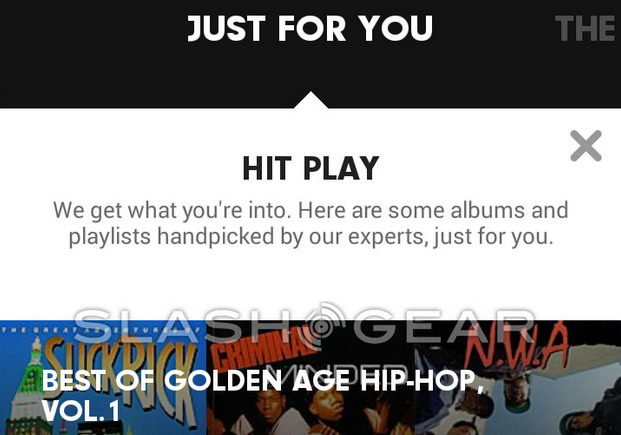 When this review is posted, Beats Music will be launching with a 7-day trial for all users. There's also an AT&T 3-months free service through their main web portal as well as a $14.99 USD per-month cost through AT&T for up to 5 accounts. Outside of AT&T, Beats Music will cost you a cool $9.99 per month or $119.88 per year. This service starts out with availability this week on iOS, Android, Windows Phone, Sonos, and through the web.