Battlefront 2 in-game purchases are coming back: Here's the lowdown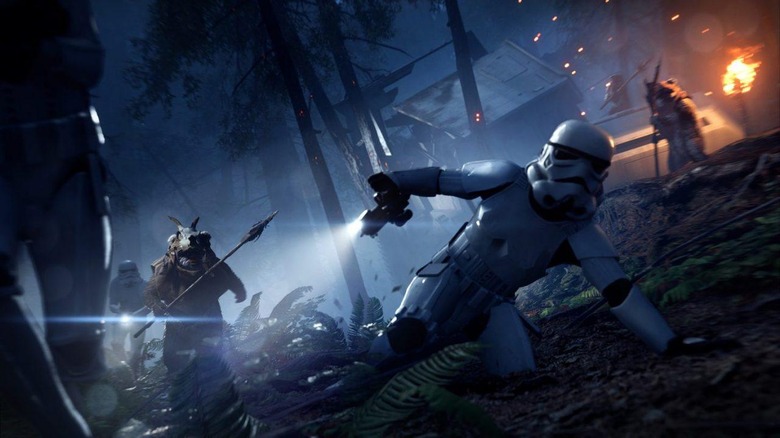 Electronic Arts has revealed that microtransactions will soon be coming back to Star Wars: Battlefront 2. Of course, we knew this day was coming, as EA and DICE have stated their intention to bring in-game purchases back from the day they were removed, but now we have a date for their return. Fortunately, when they come back, they'll look a lot different than they did when the game first launched.
As explained over on the Battlefront 2 official site, crystals – one of the game's currencies – will return on April 18. The only way to obtain crystals is to spend real money on them, and crystals themselves can only be spent on new "Appearances" to use in game. In other words, you'll only be able to purchase cosmetic items with crystals, so it sounds like we can lay fears of pay-to-win mechanics to rest.
The return of crystals will only be one portion of Battlefront 2's April update. DICE also revealed a new game mode called "Ewok Hunt" that makes everyone's favorite forest-dwelling, bear-like creature playable in game. In Ewok Hunt, you'll play as either an Ewok or a Stormtrooper – if you're an Ewok, your goal is to eliminate all Stormtrooper players, while the Stormtroopers have to survive an undetermined amount of time as they wait for extraction.
Ewoks will be using weapons like spears and Wisties, but Stormtroopers will obviously have an edge with their blasters and flashlights. To help balance the advantage of weaponry out, a new Ewok will spawn every time a Stormtrooper dies, so if you're not careful, the match could very well end up with many Ewoks hunting down a few remaining Stormtroopers.
Battlefront 2's aggressive microtransactions dominated discussion early on after launch. Players rightly caused a lot of commotion over the fact that Battlefront 2's progression system was so closely tied to in-game purchases, leading DICE and EA to disable microtransactions entirely and promise a reworked system. That revamped progression system arrived last month, and with crystals now making a return with these new restrictions, it seems that EA has delivered on its promise of a more user-friendly system. Here's hoping the backlash stays fresh in minds of EA's executives for a long time to come.