Battle for 3D: HTC EVO 3D vs LG Optimus 3D Hardware Comparison [Video]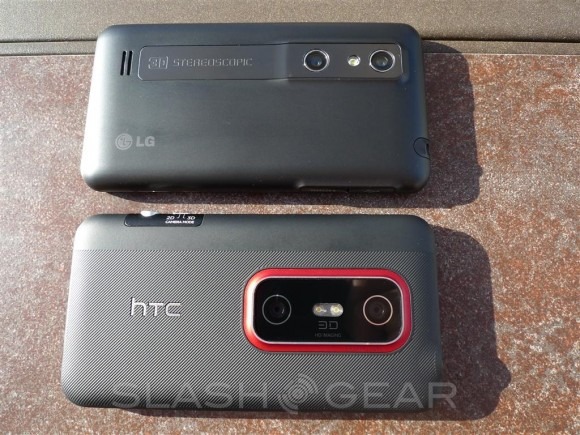 So you love the idea of your new smartphone being able to have some 3D capabilities — your android smartphone that is, but you don't know if you'll actually like it and if you do, you don't know what one to buy. So far the choices are pretty limited and as of right now the upcoming devices are the HTC EVO 3D or the LG Optimus 3D and lucky for you guys I have both. I've done a small video and snapped a few pretty close-up photos to hopefully help a few of you eager readers decide on your next phone.
Now that I've got the idea brewing in your head as to what device you want feel free to check out my LG Optimus 3D hands-on and unboxing, then after that you can also see my HTC EVO 3D hands-on to get you a little caught up on both devices. I also have some close up photos coming up for you as well. So the mini SlashGear battle begins: What 3D phone should you choose?
First Impressions:
Right away you notice the stellar build quality of the EVO 3D, HTC is known for their top quality hardware and this is no exception. It feels extremely well made and of good material, it has a nice and even weight to it and overall it just feels good in the hand. I wouldn't call it heavy but it feels "solid". Then you have the Optimus 3D — It also has a pretty good build quality and its very similar in size to the EVO in all aspects including weight. LG might not be quite up to HTC's level but they are close and it seems fairly solid as well but I just would rather hold and carry the EVO 3D personally.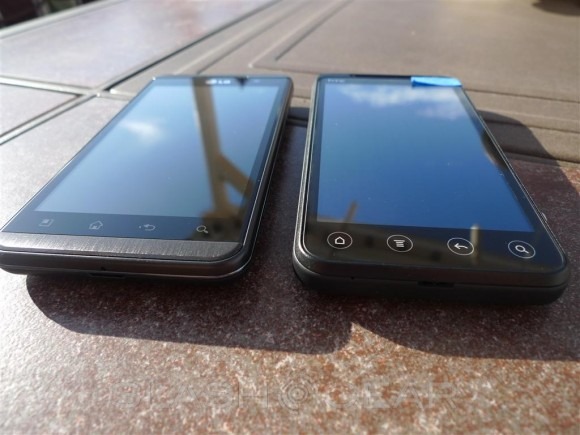 3D
Without getting into all this hardware too much I'll keep most of it for the video and pictures since that is what everyone loves to see right? The video goes over the glasses free display on both devices pretty clearly but I do want to mention a few things regarding that. They both feature 4.3" glasses free 3D displays and they do a pretty good job at 3D. Obviously these are both the first devices to come to market with glasses free so its just a start.
I don't know exactly what kind of technology both are using but I feel that the HTC EVO 3D has the edge in 3D as well. The EVO runs a qHD 540x960 high-res display vs the 480x800 of the LG. I'm unsure if those same resolutions come into play during 3D playback but to me the EVO wins in the biggest selling point of these phones — and that is 3D. When you switch either over to 3D for a game or for pictures they get an odd glow to them as well as a bit grainy. Yes the high-res display turns a little grainy when 3D is activated but the 3D effect seems better on the EVO and the grainy effect is also less and that helps with the possible headache "issue". Its a really close race though and you can see for yourself in my almost up to par video below.
[vms 85b7a8012516bc353395]
Wrap Up:
To wrap things up if I had to choose one my vote would have to go with HTC. The EVO 3D is just a great all around device. It has Android 2.3 Gingerbread vs the Optimus only having 2.2 on board. The EVO also has that high-res display and we can't forget about Sense 3.0 on the EVO. That gives it another wow factor as the entire user interface is neat and clean just like the rest of the phone. The 3D effects seemed a little better and more visible to me but this could really go either way since all eyes are different. For me it comes down to the build quality and the addition of Sense 3.0 that makes the EVO 3D the winner in this mini battle for 3D supremacy.
That's it for now folks, check out the rest of the photos in the gallery below.