Barnes & Noble Samsung Galaxy Tab E NOOK launched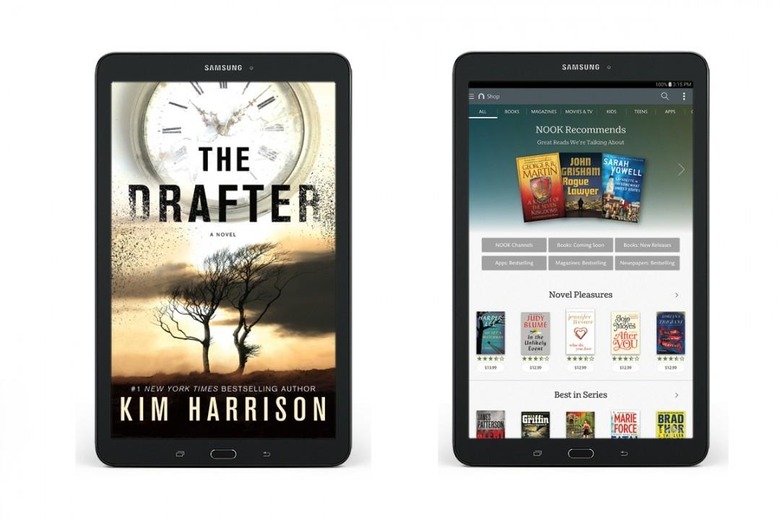 Barnes & Noble has launched a new NOOK reading device, but it's not the kind you might expect — rather than offering an e-ink display and dedicated reading functionality, the new NOOK comes from Samsung, and by all accounts is a sleek powerhouse of a tablet. It comes with a big price tag (relatively speaking) to match, but gives readers the option to browse magazines in full color and play with entertainment apps.
The new Samsung Galaxy Tab E NOOK features a substantial 9.6-inch display — though it uses more power than an e-ink display, it also has the added benefit of color and a crisp resolution, the combination of which better suits comic books and magazines. The display is also necessary due to the new NOOK's entertainment features, which includes web browsing, videos, and more.

The tablet has Samsung's Multi-Window feature, which splits up the display for running two apps at once. There's a micro SD card slot for expanding the internal 16GB by up to 128GB. The tablet also boasts a 2MP front-facing camera and a 5MP rear camera.
More specific details include a 1280 x 800 resolution, a battery that supports 12 hours of video playback per charge, and a 1.2GHz Qualcomm APQ 8016 processor. There's GPS + GLONASS, dual stereo speakers, WiFi, and Microsoft Office pre-loaded.
The new Galaxy Tab E NOOK is available now for $249.99 USD. This is joined by the sleek Samsung Tab S2 NOOK that was launched early last month.