Barnes & Noble Nook HD Review
The popular bookseller Barnes & Noble surely have a great pair of tablets on their hands, but they are rarely mentioned while talking about budget friendly tablets. With a strong focus on e-readers and digital content the Nook HD puts up a great fight against the competition. With the iPad mini selling like crazy, the Nexus 7 popular in the Android world, and the Kindle Fire HD does their new Nook HD stand on its own? Read on to find out our thoughts on this impressive 7-inch HD tablet that doubles as the perfect reader.
Barnes & Nobles tablets have always been pretty great for what they are, but it's their content and ecosystem that still wasn't quite up to par with the competition. Now that they have even better hardware, millions of books, magazines, newspapers, apps and even a Nook video store it's time to take another look at the Nook. Their new Nook HD has the highest resolution display of any 7-inch tablet, runs on Android 4.0 Ice Cream Sandwich, and is designed with readers in mind.
Hardware
B&N hasn't wandered too far from the original tablets they've offered in terms of design, but it's the small things that make the new HD their best tablet yet. B&N says their Nook HD display is "better than any other 7-inch tablet" while it features a 1440 x 900 HD resolution, still manages to be rather sleek coming in at 11mm thick and weighing only 11 ounces too. After using the tablet you'll quickly see why. The screen is bright, vibrant, and crisp and the viewing angles are excellent. This makes reading a breeze. We'll talk more on that below but for now lets round out the specs. The Nook HD rocks a 7-inch 1440 x 900 HD display, a 1.3 GHz dual-core TI OMAP 4 processor, 1GB of RAM, and comes with 8 or 16GB of storage options, not to mention a micro-SD slot for expanding those options.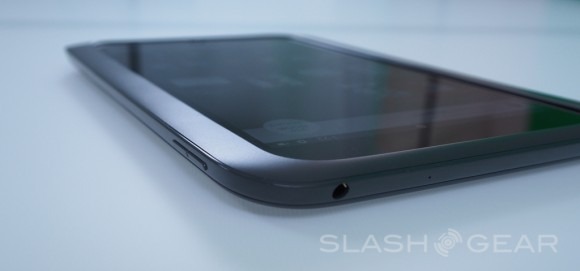 The display rocks 243ppi and support for 720p video playback. Tipping the scales at 315g, it undercuts the Kindle Fire HD and, at 127mm wide, is narrower too. The Nook HD is lighter than the Fire HD, Nexus 7, and the iPad Mini and is smaller than them all except the Nexus 7. This makes it easy to use on the go, hold with a single hand, and of course you can read with ease. There's no cameras on board, but then again this is more about content consumption than creation. The micro-USB port has been dropped in favor of their own 30 pin connector on bottom, which doubles as HDMI-out but you'll need a special dongle for full support. We have the familiar Nook home button on the front, and they've placed the usual power and volume rocker buttons in easy to access places. The power is on the left top side, while the volume is placed on the right. They are out of the way during reading, but easy to find and access when needed. Overall we actually found the design in general to be quite pleasing after using the device for more than a day or two. It isn't too pretty, but functions great.
Just like the Kindle Fire HD the Nook is more a reader than a tablet, but B&N has no problem showing us that. The Kindle is slowly becoming more and more a device for games and movies, while the NOOK HD is clearly geared for reading. You'll notice that right off the bat with their soft-touch contoured design, curved edges for an easy grip, and the bezels up front. At first we weren't too fond of the bezel on the front being in the way of the display, but once you read a few magazines you quickly realize just how comfortable it makes your experience — something no other tablets can tout. Despite the plastic edges and buttons the device doesn't feel too cheap, but certainly doesn't give you a premium feeling like the iPad mini.
The display was one of our favorite aspects on the Nexus 7, aside from Android 4.1 Jelly Bean, but the NOOK HD takes the cake here. Viewing angles are great and overall reading a book or enjoying a video you quickly notice just how much effort they put into the display. Sadly they focused a lot of attention on the display and didn't think about adding a camera or better audio. While we don't miss the camera the SRS sound wasn't nearly as nice as we'd hoped.
Software
With the new line of NOOK tablets B&N added a long list of new features. Trying to better compete with the Nexus 7 and the iPad mini they've certainly stepped up their offering, but you still get a feeling this is all about reading. We have over 3 million books, magazines, apps and more, and they've added a new Nook Video option for movies. Movies look amazing on the HD display, but it's the reading experience that shines on this slate. Running on Android 4.0 Ice Cream Sandwich but you'd never know it, B&N has added plenty to make this stand on it's own. We have tabbed browsing now, something that sadly was missing before, and the Nook profiles are a breeze to set up.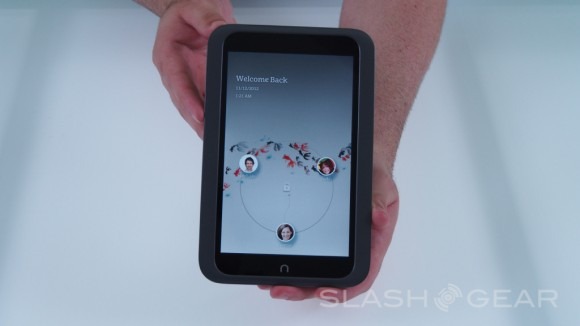 Beating Google to the punch here we have multiple user accounts that work quite seamlessly. Each has its own apps, settings, background, profile picture and more. Flipping between them is as easy as hitting the power button and sliding in, but the delay to change backgrounds and apps was longer than expected. the carousel homescreen is ever so familiar if you've used a Nook or a Kindle Fire, and populates with recently opened apps or books for easy access. They've managed to keep the Android 4.0 multi-tasking feature with its own dedicated on-screen button, something that is sorely missing from those Amazon slates. Overall the Nook user interface has a nice 3D effect and pops out at the user, giving it another element of refinement. Sadly there didn't seem to be a video resume option in their software (which were told will be addressed in an update) and the audio was lacking so much we tried to find a setting to turn it up — which wasn't available.
Those few qwerks aside B&N has done a lot to make this more than a reader, even though at heart that is still what it is. As you saw in our video above they've added tons of new additions. From Nook Magazines that look amazing in both portrait or landscape for dual-page views, Nook Scrapbooks so you can easily crop out and save your favorite excerpts, and even Catalogs. Yup, New with the NOOK HD catalogs offer a convenient way to browse and shop HD catalogs such as the Pottery Barn, L.L Bean, Frontgate, and more. The NOOK will populate top choices, and again the HD screen makes viewing and turning the pages just gorgeous and vibrant. You can then use the Scrapbook feature to save things of interest for later, or share them with family or friends.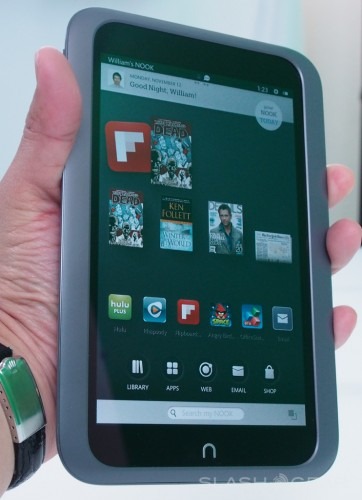 Newspaper and magazine reading has multiple options to enjoy the content, or to just read the text. There's on screen keys to zoom out and get a full magazine view for easy panning through content, or you can cut out all the images and just enjoy the text if you choose. NOOK video is also a new option that brings the NOOK lineup closer to their competition. Offering thousands of films, movies, and TV from multiple major studios. They don't have anything like Apple or Google yet, but it's a work in progress and one more addition that makes the NOOK HD "do it all" instead of just being a reader. They even offer these in up to 1080p downloads to take advantage of their brilliant HD displays.
NOOK Comics and Books are just as they've always been, which are excellent, but they've put some focus on high quality comics as well as new fonts to make books have a "paper" feel while reading. With more than 3 million digital books and more you'll always be able to find what you want — for the most part. Even Twilight if you must. Overall the software is quite pleasant, even if it doesn't feel like Android, and their app store has grown enough to stand on its own for those that don't need the full Google experience. With 10 times as many apps as last year they're doing ok, but still don't offer many games and apps that most tablets enjoy. However, B&N has secured most of the top 100 apps from competing platforms to stay relevant and keep users happy. So enjoy that Angry Birds and Words with Friends.
As mentioned above the browsers been improved and now finally supports tabbed browsing, and their new built-in email app also offers features that were previously missing. Things like Microsoft exchange support, as well as calendar and contact sync for Gmail, Outlook, Yahoo! and more. Sadly everything just wasn't quite as fast as we'd hoped. And that's in all aspects of the UI, not just email and browsing.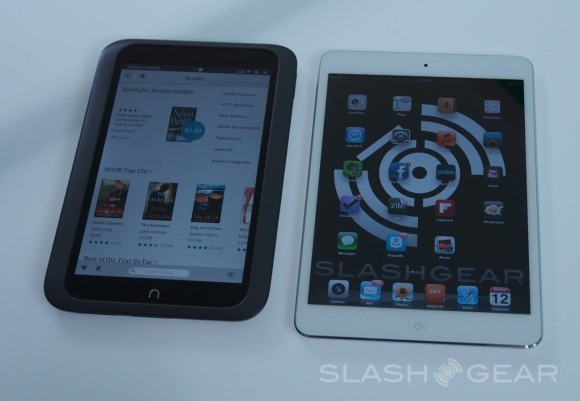 Competition
For $199 and $229 the NOOK HD is an awesome tablet and reading experience. That is for sure. Whether or not it's worth the price compared to the competition is another story altogether. At the same price point the Nexus 7 is a complete tablet and Android experience, yet offers more storage at 16GB for $199. Then you have the iPad mini. Obviously there's a little price premium topping the $300 mark but you'll get much, much more. While not everyone wants to spend the extra for the iPad, the little difference just delivers so much more in terms of content. We only state that for the simple fact that B&N is trying to offer so much content for the device. In the end it still fails as a "tablet" and thus we must give the Nexus 7 and iPad mini the win here. For those seeking a tablet mainly for reading but will still enjoy those other features, we believe the NOOK HD is a better choice than most. The design is geared for reading and the experience just feels better than that of the Kindle Fire. B&N also doesn't have ads in your face like those Amazon folks.
Wrap-Up
In the end Barnes & Noble invested a lot into both their hardware and software, and it shows. The screen is vibrant and crisp, performance is snappy and family friendly, and their unique industrial design stands out from the competition while remaining familiar. Overall while B&N has made an excellent product the software and ecosystem still needs some help. Riddled with poor performance in the OS and gaming, everything but reading books and magazines just takes too much effort when you've used iOS or regular Android.
When it comes down to what we want in a tablet this delivers in terms of hardware, but still fails just enough in the software and content to truly make it worthy of a full recommendation. While we love where the NOOK line is going — and hope it will get there — the Nexus 7, iPad mini, and Kindle Fire HD still offer more that make them an easier and better choice. Lacking the ecosystem of true Android or iOS, not having a camera, and not delivering enough content for consumption like the Kindle Fire HD achieves makes this a miss. If you're invested in the B&N world already, this is a worthy update in all aspects and is by far the best NOOK yet.