Banksy uses cellphone service to turn NYC to outdoor art gallery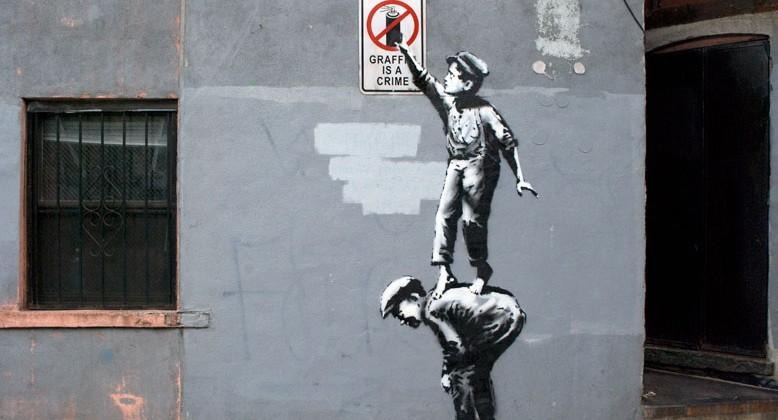 Starting this afternoon, international graffiti know-it-all Banksy begins his newest and greatest art exhibit to date: the entirety of New York City, New York. What you'll find is the artist connecting with citizens and visitors of the city with cell phone technology the same way indoor art exhibits work with headphones and purchase-at-counter guide packs. Banksy art pieces will be accompanied by phone numbers that connect to a network of presentation pieces available to anyone with their own phone service.
Banksy is known for his over-the-top artwork and multi-country graffiti hits, having appeared in several continents and in major metropolitan areas over the past 10 years (or so). In one exhibit in California, he imported an elephant for display in an art show, painting it the pattern of the walls it was surrounded with (no worries, the elephant didn't mind a bit). In another exhibit, Banksy sprayed paintings on the West Bank barrier on the edge of Israel.
The first piece in this New York City streets collection, you'll find, goes by the name "The street is in play", and is joined by the audio you'll hear in the video included in this article. This audio can also be heard by dialing the number painted near the work as it sits in the streets of Brooklyn. We're not currently aware of where the painting exists at the moment.
Banksy's art show here goes by the name "Better Out Than In" and is tagged with the Paul Cezanne quote "all pictures painted inside, in the studio, will never be as good as those done outside." Rather poetic, wouldn't you say? We wouldn't be surprised if a vast collection of Banksy paintings began to appear with telephone numbers near them over the course of the next few weeks. Keep on the lookout!
VIA: BanksyNYC