Bang & Olufsen BeoLab 14: Surround speakers you probably can't afford to hide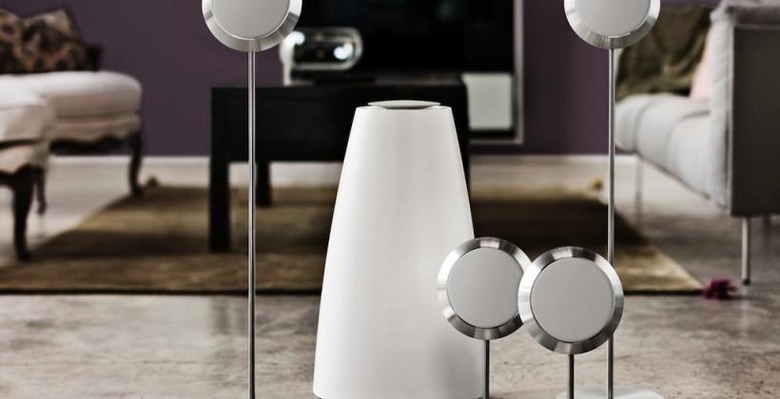 Danish style-merchant Bang & Olufsen has revealed its latest beautifully crafted, painfully expensive surround sound system, the BeoLab 14. Consisting of four aluminum speakers – which can be wall- or ceiling-mounted, or equipped with slender desk or floor stands – and a tapered subwoofer with an 8-inch bass driver, the BeoLab 14 setup pushes out a total of 840W.
280W of that comes from the class D amplifier in the subwoofer, which automatically adapts its output to the shape and size of the room. Each of the satellite speakers gets 140W to play with, and tips the scales at 800g. Formed from pressure-treated aluminum – in fact 170 tons of pressure is involved – they can be fitted with a choice of six colored fabric fronts.

The subwoofer body comes in white only, though the top fabric section can be switched out to match with your decor. Hooking up to a B&O surround-capable TV is a matter of plugging in the A/V multi connector, but you can also use an A/V receiver and any other brand of TV or projector.
Since you might not want to hide the vase-like sub under a table or behind the sofa, as per many blockish rivals, B&O includes a "positioning dial" which can quickly set it to the right sort of settings for whether it's in the corner, against a wall or bookcase, or in the middle of the floor. There's also peak volume protection, so that none of the cones burst from unexpected highs.
B&O says the BeoLab 14 surround sound speaker system is on sale globally this week, priced at €2,995 ($3,855).