Bad Piggies hits number 1 after just 3 hours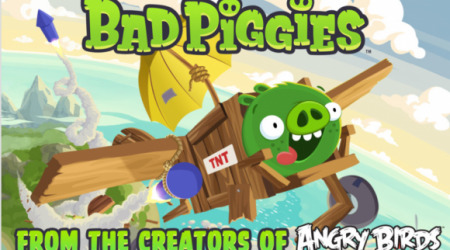 Rovio's latest creation, Bad Piggies, released today, and in just three hours the new game is at the number one spot in the iTunes App Store. The Finland-based game developing company released the Angry Birds spinoff earlier today, and it seems that fans are already eating it up, especially since the game released early in the day on a school and work day.
In this new title, you play the pigs' perspective as opposed to the birds. However, the gameplay is completely different. In Bad Piggies, you build different land and air vehicles that will get you from point A to point B as quick as possible. Overall, the mechanics are great and it has decent lasting appeal.
Of course, Rovio isn't new to success. Their Angry Birds series is one of the most popular mobile games of all time. Their most recent Angry Birds installment, Angry Birds Space, hit a whopping 100 million downloads in two-and-a-half months. With Bad Piggies already having so much success within three hours of its launch, it wouldn't be a shocker if it broke Angry Birds' records.
If you still have yet to get in on the fun that is Bad Piggies, the game is available for free on Android (ad-supported), and is priced at $0.99 on iOS. You can also grab the game for both Windows and Mac. Both versions are $5 each. Rovio says that more levels will come to the game, and they hope to develop a franchise from it just like they did with Angry Birds.
[via TechCrunch]