Award-winning low-cost concept car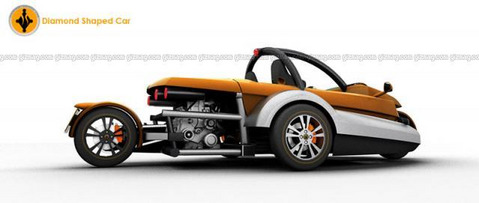 When I had design & technology class in school I made a plastic pen-holder.  It was white and fell apart, because I hadn't mitred the edges and so they didn't stick together very well.  Thankfully there are more proficient students out there than I was: a team from Cranfield University have just won an innovation award in The Société des Ingénieurs de l'Automobile's (SIA), Styling and Technical competition for designing "The Most Affordable Dream Car".
Their DScar design is a lightweight (500kg) and fuel-efficient go-kart intended more for weekend and track day use than the daily commute.  Powered by a compact 3 cylinder 68bhp engine supplied by Toyota, the most obvious departure in design is the diamond wheel layout.  Designed to a build-budget of just £5,000 ($9,846), it uses mass-produced parts so that initial construction and subsequent repair are cost-effective.
More photos of this cool looking project after the cut.